What Michael Douglas Really Wants In Ant-Man 2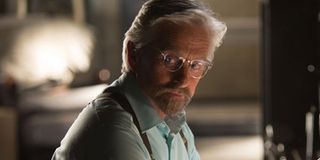 Ant-Man proved that a solid mix of humor and action can yield yet a successful Marvel movie. In fact, much of the film's often insane, idiosyncratic fun left co-star Michael Douglas feeling a bit left out in his role as the moody mentor, Hank Pym. It seems that for Ant-Man 2 he'd like to see Pym fly his freak flag a bit.
In an interview with Yahoo! UK, Douglas reveals his ambitions for Hank Pym. The 70-year-old veteran actor joined Ant-Man back when it was under the directorial vision of Edgar Wright, who co-wrote the previous script with Joe Cornish. However, with directorial successor, Peyton Reed, working off a revamped script by Adam McKay and star Paul Rudd, Douglas thinks Pym was left out of the more mirthful tone injected and hopes to see that change in a potential sequel. According to Douglas:
Ant-Man is loaded with both hilarity and mind-blowing sequences, some of which delve into psychedelic territory. Besides naming the film's subatomic Quantum Realm as a possible path for Pym, Douglas also cites the assortment of absurdity, embodied by Michael Peña's Luis, a roguish, surprisingly nuanced character who has a knack for stealing things, including scenes. Having witnessed much of the mind-blowing zaniness that has made the film a creative success, it's clear that Michael Douglas wants to get in on the weird-ish fun after having been relegated to the aged Obi-Wan to Lang's Luke Skywalker, as the purveyor of a tragic backstory behind the Pym-Particle-powered suit.
In a rather surprising revelation, Douglas stated that he has yet to sign up for any more Marvel films, something that's likely the result of having joined Ant-Man before Marvel began its practice of mandatory multi-film deals. However, Douglas doesn't seem to be playing hardball and sounds as if he is up for whatever Marvel has in store for Pym, regardless. As Douglas explains:
Fortunately for Douglas' Ant-Man 2 aspirations, the first film has left his Pym character freed from much of what tormented him internally and the film ends with him looking towards an optimistic future. With the expositional duties now completed, it does seem likely that Douglas will get what he wants and the second film could further explore the more intriguing aspects of the Pym character, who, as the original Ant-Man in the comics, is quite the eccentric who is often plagued by multiple personalities. Thus, the role of the sagely mentor could lead to something far more potent for the veteran actor.
While a proper Ant-Man sequel is not currently on Marvel's schedule, you'd be well advised not to bet against such a thing. In the meantime, you can get your next glimpse of Paul Rudd's Scott Lang/Ant-Man when he makes an appearance in Captain America: Civil War, which will see ideological issues cause the MCU's greatest heroes to lock horns when it hits on May 6, 2016.
Your Daily Blend of Entertainment News
Your Daily Blend of Entertainment News
Thank you for signing up to CinemaBlend. You will receive a verification email shortly.
There was a problem. Please refresh the page and try again.