What Nightmare On Elm Street Fans Often Steal Before Fan Conventions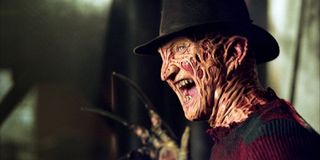 This week marks the 30th anniversary of the release of Wes Craven's literal hellish nightmare, A Nightmare on Elm Street. That's 30 whole years of teen murdering dream demons, 30 years of the "One, two, Freddy's coming for you," chant and 30 years of the blitzed remains of Johnny Depp decorating a bedroom ceiling. In that time, Freddy Krueger actor Robert Englund has also done a ton of autograph sessions and, as such, gotten a lot of strange requests. One recurring item to sign, however, has stood out.
Speaking to Rolling Stone, Englund references the infamous scene in which Tina Gray is slaughtered in her sleep.
Wait, what? Englund spends the majority of his post-Freddy career making Face Off appearances and signing stolen Elm Street signs? That famous line didn't even come from the original Elm Street, but rather the substandard sixth sequel, Freddy's Dead: The Final Nightmare.
Craven later elaborates on his recent Twitter tell-all and notes that he came up with "Elm Street" in reference to the street that ran past the book depository where Kennedy was shot. For him, it was where the innocent world ended because, man, this guy is an ingeniously creative fuck and we love him for it.
As for Tina Grey's untimely end, the director agrees on the iconic significance of the death scene, specifically how her bloody body flops up the walls before dropping from the ceiling to the bed, which is frequently cited as one of Freddy's greatest kills (up there with Glen's blood fountain).
To create the eerie effect of Freddy's arms extending in the alleyway and his fingertips sparking along the wall, special effects master Jim Doyle says a lowly fishing pole gag was all it took. They then connected a car battery to the razor-sharp glove -- one of 17 used in production to be exact -- which sparked whenever it touched metal. Gray's floating corpse was then produced with the use of a rotating room, not unlike the trick Fred Astaire used to dance up the sides of the wall of a room and across the ceiling. Who ever knew these two Fred's would ever have anything in common?
Your Daily Blend of Entertainment News