What Stephen King Really Thinks About Switching The Race Of A Dark Tower Character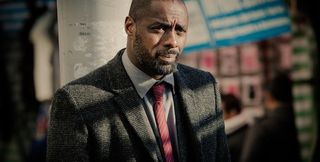 Is Idris Elba the perfect Roland Deschain? Fans are likely divided on the matter, as is often the case when an actor is cast or being eyed to play a beloved literary character. The issue tends to be heightened even further when race plays a part, as is the case for the potential feature adaptation of Stephen King's Dark Tower series. Roland Deschain is presumed to be white in King's book. So, what does Stephen King think of the possibility of a non-white actor playing him in the films? The author took to twitter to answer that question…
There you have it. It doesn't sound like Stephen King is particularly concerned over skin-color, as long as the lead can wield a gun and take care of his team. King's Tweet is presumably in response to those who have concerns over Idris Elba reportedly being a frontrunner to play the role of the gunslinging Roland Deschain.
Concerns over the prospect of Idris Elba playing Roland Deschain may be a mix of those with a general dislike for book characters being portrayed as different races in movie adaptations, and those who may be concerned over how closely this particular adaptation sticks to the books. In the case of Roland, not only has he been depicted (opens in new tab) as white on cover illustrations, but his race plays a part in the story, specifically when he encounters Detta Walker, the irritable and occasionally violent alter-ego of Odetta Holmes. As Detta has an extreme distaste for white people, to put it mildly, it creates some initial conflict (and serious problems) when she's first introduced to the story. She plays a crucial role in the story, as well as the mentioned ka-tet, so that may be factoring in to some fans' apprehension over Elba's potential involvement in the film.
All of the above said, I'm with King. Finding the right Gunslinger seems far more important than focusing on race, and in the case of Elba, who — last we heard — isn't confirmed for the role, but reportedly leading the pack, he may be a perfect fit for the role. If Elba does end up signing up to star, perhaps they'll write a way around the race issue as it relates to Detta's issues with Roland, without drastically altering the course of the story. In the grand scheme of things, it doesn't need to be a massive alteration, and it would be worthwhile if it means casting the perfect Roland.
Reading the books, it's easy to picture Roland as a man who's hardened by experience and fueled with determination, but also has some emotional vulnerabilities. Striking the right balance for this character would be a challenge for any actor, and potentially crucial to the success of the films. When it comes down to it, Elba has proven to have the range to handle a part like this. He's also in his 40s, which seems like the right age range for the part. Just the fact that Elba's and Javier Bardem's names have been dropped as possibilities for the character suggests they're looking in the over-40 category, which is a good thing.
We're still awaiting official updates on cast for The Dark Tower series and the film apparently still doesn't have an official green light. But things are looking good for the project for now. At present, Nikolaj Arcel is on board to direct the first installment of the series, The Gunslinger, and Matthew McConaughey is said to be in talks to play the Man in Black. If all goes well and things proceed with this production — it's been a long time coming (and a couple studios) for this adaptation and anything can happen — The Gunslinger will arrive in theaters in 2017.
This poll is no longer available.
Assistant Managing Editor
Kelly joined CinemaBlend as a freelance TV news writer in 2006 and went on to serve as the site's TV Editor before moving over to other roles on the site. At present, she's an Assistant Managing Editor who spends much of her time brainstorming and editing feature content on the site.
Your Daily Blend of Entertainment News
Thank you for signing up to CinemaBlend. You will receive a verification email shortly.
There was a problem. Please refresh the page and try again.