Where Odin Probably Will Be At The Start Of Thor 3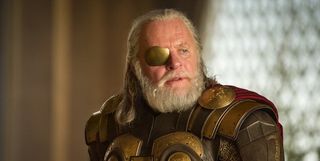 One of the lingering mysteries still left over from 2013's Thor: The Dark World is Odin's fate. At the end of the movie, Thor believed he was talking to the All-Father in the Asgardian throne room, but after he left, it was revealed that "Odin" was actually Loki in disguise. Since then, we've been wondering if the God of Mischief offed his adoptive father or if Odin is alive and Loki either has him stashed somewhere or was just screwing around. Now there's a report saying that Anthony Hopkins will be reprising the real Odin in Thor: Ragnarok, only he'll be, shall we say, quite worse for wear.
Apparently when the third Thor installment kicks off, Odin will be wandering around Midgard, a.k.a. Earth, as one of those crazy, "the end is nigh" street corner homeless people who is warning people of the coming apocalypse, a.k.a. Ragnarok. Geek.com noted that it's almost impossible to kill Odin when he's not in the Odinsleep, so although Loki has managed to replace him, he's not off the board permanently. Whatever happened, it resulted in Odin's power being taken away and him being banished to Earth. It's also mentioned that Thor will encounter his father on Earth, and he'll no doubt be angry seeing him in such a state.
After faking his death at the hands of Malekith's lackey Algrim, Loki is now free to move around the Nine Realms without anyone suspecting his trickery. So if this report is true, that means Loki's been the one in charge of Asgard since Thor: The Dark World, and Odin's been hidden away, his warnings falling on deaf ears in our corner of the Nine Realms. Obviously that's not good for anyone. Although Marvel hasn't officially confirmed whether Hopkins will return for Thor: Ragnarok or not, it would make more sense if he did. Behind Thor and Loki, Odin is the most important Asgardian in the Marvel Cinematic Universe, and it would be a letdown if his fate was simply explained rather than shown. Besides, it sounds like Odin will have the details of what Ragnarok entails. Thor first got hints of the event from his vision in Avengers: Age of Ultron, but having Dad provide details on the end of the world is probably preferable.
In addition to Loki, Thor: Ragnarok will feature another villain, who will likely be played by Cate Blanchett. It's unclear whether Loki and this mysterious individual will be in cahoots or operating separately, but either way, their schemes will cause Thor nothing but trouble. The God of Thunder will have help from The Hulk and his Asgardian friends, and together, they may just stand a chance of not only stopping Loki and this other villains, but also preventing Ragnarok from destroying the Nine Realms.
Moviegoers can look forward to Thor: Ragnarok being released on November 3, 2017.
Connoisseur of Marvel, DC, Star Wars, John Wick, MonsterVerse and Doctor Who lore. He's aware he looks like Harry Potter and Clark Kent.
Your Daily Blend of Entertainment News
Thank you for signing up to CinemaBlend. You will receive a verification email shortly.
There was a problem. Please refresh the page and try again.