Which DC Comics Character Could Carla Gugino Play?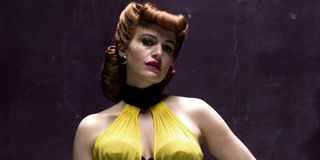 Everyone wants to get in on the superhero movie genre, and Carla Gugino is no different. The San Andreas actress did the press rounds for her earthquake disaster movie and was asked which superhero she'd like to play. Although she didn't specify a character, she did say that because she's worked with Zack Snyder in movies like Watchmen, Sucker Punch and in Man of Steel (she voiced the Kryptonian service robot Kelor), she has her eye on the DC universe. But whom could she play?
Gugino told Digital Spy that a DC role needs to be "next on my list," after emphasizing that she'd go anywhere with Snyder. It's unclear how involved the filmmaker will be in the DC cinematic universe after Batman v Superman. He has been attached to the Justice League movies, but a lot can change between now and then. He also could either act like a Joss Whedon type and help oversee the standalone movies, or he could simply focus on what he's working on. That said, Gugino has proven she can play a number of graphic novel-influenced roles.
Perhaps it's because she played the mother of the Silk Spectre and a former superhero herself in Watchmen, but some fans have already suggested a good role for her could be the mother of Diana Prince/Wonder Woman. Queen Hippolyta rules over Themiscrya, the sacred island where no man is allowed to step foot, and leads the Amazons. The solo Wonder Woman film is coming in the next couple years, even though Michelle MacLaren dropped out as director over creative differences. It's unknown where the story will go, but if there are any flashbacks or scenes that take place on the mystical island, then Gugino would be a great addition.
Given the current lineup of films, including The Flash, Cyborg, Green Lantern and unscheduled solo films for Superman and Batman, there are a few other options that pop in our heads. Mrs. Wayne is one. After all, what's a Batman movie without a flashback to that fateful night in the alley? There's Nora Allen, mother of The Flash, played by Ezra Miller in the films. Or perhaps even someone at Star Labs, which we've seen Easter eggs for in Man of Steel. Warner Bros. is dedicated to expanding its superhero movie offerings to compete with Marvel's ever growing slate, and given her good standing with Snyder, it seems likely Carla Gugino will pop up again in some capacity if she campaigns hard for it. Watch her full statement in the video compilation below.
You can see Gugino in San Andreas when it hits theaters this weekend. The post-Man of Steel DC universe kicks off with Batman v Superman: Dawn of Justice on March 25, 2016, followed by Suicide Squad on August 5, 2016. For those of you who want to see her appear in this world, start tweeting like there's no tomorrow.
Your Daily Blend of Entertainment News