Who Almost Played Tom Hardy's Role In The Revenant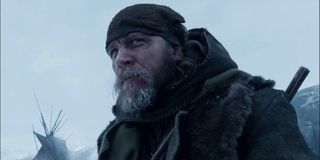 While it feels like the whole world is waiting with bated breath for Leonardo DiCaprio to pick up the Oscar that fans believe is rightfully his next month, there's another Academy Award nominated actor from The Revenant who hasn't received quite the same level of acclaim. Tom Hardy's turn as John Fitzgerald was so devilishly evil, but still achingly human, and it's impossible to picture any other actor in the part. But there almost was. In fact, Tom Hardy has now admitted that Sean Penn was originally in line to play Fitzgerald.
Tom Hardy explained to De Pelicula how it was a lucky coincidence that he was able to play Fitzgerald in the end, because not only was Sean Penn in discussions for the part, but Tom Hardy was also due to film Splinter Cell at the same time. However, Splinter Cell ultimately hit its own production problems, with production set to start this year, while Penn then became unavailable, and the rest, as they say, is history. Hardy explained:
While it's pretty much a certainty that Leonardo DiCaprio will win the Best Actor Academy Award at next month's ceremony for his performance in The Revenant – in fact, if he doesn't, it will be one of the biggest upsets in the history of the Oscars – Tom Hardy's Best Supporting Actor field is much harder to call.
Because Bridge Of Spies' Mark Rylance is the rank outsider, even though he is truly stunning in Spielberg's taut Cold War tale, and Spotlight's Mark Ruffalo is probably just as unlikely to take home the gong, Tom Hardy's main competition comes in the form of The Big Short's Christian Bale and Creed's Sylvester Stallone.
While I'd put Tom Hardy just ahead of Christian Bale in the pecking order, Sylvester Stallone is odds on favorite after his Golden Globes triumph in this category. Plus, the entire furor over the lack of diversity in the acting nominations might even help Stallone's cause. Then a gain his recognition, and the lack of nods for Creed's Ryan Coogler, Tessa Thompson, and Michael B. Jordan, is indicative of the Academy's problems.
Because of this outrageous oversight, there might be a stronger urge to reward Creed, while, in this field especially, the Academy usually gets sentimental and nostalgic and rewards older actors. Just look to Christopher Plummer, Alan Arkin, and Morgan Freeman's wins in the last two decades.
That means that Tom Hardy is still far from the favorite. But, even if he does miss out, Tom Hardy has been on such a bona-fide hot-streak in recent years (Mad Max: Fury Road, The Revenant, and Legend were all released in the last 12 months) he's likely to get another chance in the very near future anyway.
Your Daily Blend of Entertainment News