Who Jared Leto Took Advice From On Playing The Joker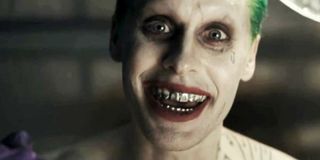 We've been hearing a lot about the steps Jared Leto took to bring his iteration of the Joker to life — he undertook the Method method of acting, and he gave a rat to Margot Robbie and bullets to Will Smith as gifts. In addition to his commitment to the character's intensity, the Oscar-winning actor revealed that he spoke with Grant Morrison in order to better conceive the Gotham madman.
The renowned comic book writer made this revelation during an interview with Comic Heroes magazine, as reported by Games Radar. Morrison has worked on a number of DC titles, including the "Gothic" story arc of Batman: Legends of the Dark Knight, Arkham Asylum: A Serious House on Serious Earth, and Batman and Son. So, he knows a thing or two about the Caped Crusader's most nefarious nemesis.
Morrison said of his conversations with Leto,
Heath Ledger, who passed way before The Dark Knight debuted in theaters, was the last to portray the Joker in a live-action theatrical feature. Joker will make his debut in David Ayer's Suicide Squad, premiering next year on August 5. Jai Courtney, who plays Captain Boomerang in the supervillain affair, remarked that Leto stayed in character throughout their weeks of filming together. Smith was the latest to comment on Leto, and he reiterated Courtney's notion, saying that he has never actually met Leto out of character.
Suicide Sqaud focuses on the DC world's most dangerous villains, who are locked up in Belle Reve Prison under the watchful eye of its warden, Amanda Waller (Viola Davis). However, they won't stay confined for very long. Waller enlists a select few to execute top-secret missions for the government in exchange for reduced sentences. Joel Kinnaman portrays their wrangler Rick Flagg, and among those tapped are Harley Quinn (Robbie), Deadshot (Smith), Captain Boomerang (Courtney), Killer Croc (Adewale Akinnuoye-Agbaje), Katana (Karen Fukuhara), and El Diablo (Jay Hernandez). Details on their mission remain unclear, though we bet it has something to do with Cara Delevigne's Enchantress.
Based on preliminary reports, it seems Joker doesn't play as big of a role in the events to come as some hoped. Although, the trailer screened at San Diego Comic-Con reveals we'll learn of his early encounters with Harley and his tumbles with Batman. Ben Affleck will reprise his role as the new Dark Knight in Suicide Squad after his debut in next year's Batman v Superman: Dawn of Justice.
Your Daily Blend of Entertainment News
Thank you for signing up to CinemaBlend. You will receive a verification email shortly.
There was a problem. Please refresh the page and try again.