Who Peter Quill's Father Probably Is In Guardians Of The Galaxy 2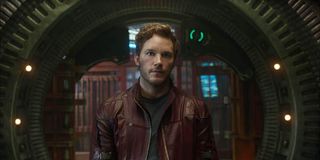 One of the biggest mysteries that lingered after 2014's Guardians of the Galaxy was who is Peter Quill's father? Comments here and there revealed that he was a being from an ancient race not seen for a long time, who is described as both an "angel" and a "jackass." This person will debut in Guardians of the Galaxy Vol. 2, and while director James Gunn has said it won't be J'Son of Spartax, as it is in the comics, no other clues have been given beyond that. With almost a year-and-a-half to go until the sequel's release, many are still speculating about who the father is, but now the identity of this mysterious individual may have finally come out.
Warning: MAJOR SPOILERS for Guardians of the Galaxy Vol. 2 are ahead. If you don't want to know who Peter's father might be, click on another one of our fine articles.
Hearing this information from "four independent sources," Heroic Hollywood reports that Peter's father in Guardians of the Galaxy Vol. 2 will be Mar-Vell, a.k.a. the Captain Marvel from the Silver Age of comics. They also speculate that this might have been the role Matthew McConaughey passed on, so, if true, they may still be searching for his actor if they haven't found another person already.
It's also worth noting that Mar-Vell played a key role in the origin of Carol Danvers, a.k.a. the current Captain Marvel, in the comics. Marvel recently revealed Carol was cut out of Avengers: Age of Ultron so that viewers didn't meet her fully powered without knowing "who she is and where she came from." That could mean that Mar-Vell could also play an important role in her 2019 solo movie, and just like in the comics, be involved with how she gets her powers.
Mar-Vell debuted in 1967 as a Kree agent who was sent to spy on Earth, but he aided humanity many times while there and was eventually branded a traitor by his own people. If his species sounds familiar, that's because it's the same one as Ronan the Accuser, the main antagonist from the first Guardians movie. The Kree are also the aliens that experimented on a sect of humanity in ancient times to turn them into weapons. Though they subsequently abandoned the experiment, the the descendants of those humans are today's Inhumans. So, although the Inhumans have alredy been introduced on the ABC series Agents of S.H.I.E.L.D., it's possible Mar-Vell is also serving as a way to set up the 2019 Inhumans movie. However, given that there is nothing particularly "angelic" about the Kree in the MCU, it's seems likely that Mar-Vell's species will be changed for Guardians of the Galaxy Vol. 2, and Heroic Hollywood even speculates he'll be an Inhuman.
In terms of his superhero career, Mar-Vell was active as both an honorary Avenger and Defender until he passed away in the 1980s, and he was largely unseen until the 2012 story, Avengers vs. X-Men, when he was briefly resurrected. As for him possibly being Peter Quill's father, it's clear whoever that individual is wields tremendous power, so if it really is Mar-Vell, then he's a force to be reckoned with, and is also the reason why Peter has certain abilities regular humans don't. It's also likely we will be seeing more of Mar-Vell in the MCU's future, whether it's Captain Marvel or taking part in the battle against Thanos in the Avengers: Infinity War movies.
Guardians of the Galaxy Vol. 2 hits theaters on May 5, 2017.
Connoisseur of Marvel, DC, Star Wars, John Wick, MonsterVerse and Doctor Who lore. He's aware he looks like Harry Potter and Clark Kent.
Your Daily Blend of Entertainment News
Thank you for signing up to CinemaBlend. You will receive a verification email shortly.
There was a problem. Please refresh the page and try again.