Who The Power Rangers Will Fight In Their Upcoming Movie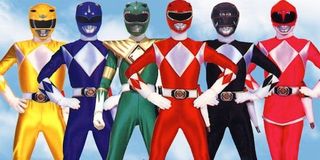 After a few starts and stops it's starting to look like the upcoming Power Rangers movie is rolling right along. Just the other day they found their first member of the team, casting the role of Kimberly/the Pink Ranger, and a new report making the rounds today indicates at least one of the villains who the team will face off against in the movie.
Heads up, there are potential SPOILERS beyond this point. Proceed with caution.
Collider got the scoop on the opening scene of Power Rangers, which will reportedly begin on one big ass action scene, and they learned who the main antagonist of the film will be. This is just an unconfirmed report, so make of it what you will, but they say that the team won't face off against someone like Rita Repulsa or Lord Zedd, and that instead they're going to tussle with Scorpina, at least in the early going.
Though she's her own villain, Scorpina does have ties to Rita Repulsa, serving as one of her minions, and is one of her most vicious and dangerous weapons. Though she's humanoid, she can transform into a giant scorpion when the need arises, which comes in handy battling the Power Rangers. There's not a ton of background on her, but she has also assisted Lord Zedd on occasion.
This could make for an interesting choice of enemies. With the mystery surrounding her, it could be a perfect opportunity for the script from Ashley Miller and Zack Stentz (X-Men: First Class) to add to the mythology of the franchise. Also, with ties to the big bad villains of the Power Rangers, this could be a way to ramp up a burgeoning movie universe—start out a smaller, but recognizable villain, then build up to the biggies in later movies, or perhaps just later in this film. We'll have to wait and see if that's the route they take, but it's a possibility.
From what Collider has heard, Scorpina shows up in the first scene with an army to take on the Power Rangers, and if that's how things kick off, it doesn't sound like this is going to be a typical origin story. Also, according to the report, this isn't just a rehash of an existing property, but will actually be a continuation of the long-running TV show, and will be set after the events of the current Power Rangers Dino Charge series. Perhaps after whatever goes down in the opening we'll see the Dino Charge team hand off the Ranger reins to a new generation.
Even with all of this new information, there are still tons of questions left to be answered. Power Rangers is expected to begin filming in January 2016 in Vancouver, BC, and will reportedly be at it through April. Right now the film is scheduled for release on January 13, 2017.
Your Daily Blend of Entertainment News
Thank you for signing up to CinemaBlend. You will receive a verification email shortly.
There was a problem. Please refresh the page and try again.