Why Cary Fukunaga Walked Away From Stephen King's It Adaptation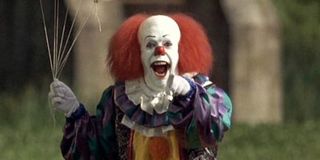 The impending adaptation of Stephen King's horror novel It has already had its share of trouble, and it hasn't even started filming yet. One of the big blows came just before production when director Cary Fukunaga, who had been deeply involved with the development, walked away. Now the filmmaker has opened up about why he left.
Talking to Entertainment Weekly, the Beasts of No Nation director discussed why, after working on It for so long, he ultimately felt that he had to separate himself from the film. He said:
If that sounds very close to the "creative differences" line cited by so many filmmakers who leave movies after realizing their vision clashes with the studios, you're not alone. As cliché as it sounds, however, this is maybe the most legitimate reason for a split like this. If you already know that you and the studio are going to butt heads constantly, and that it's unlikely the movie won't wind up being the film you want to make, why not walk away and find someone whose vision matches your own?
Selma director Ava DuVernay didn't direct Black Panther because she realized ahead of time that she and Marvel had different ideas that were never going to coexist peacefully. That choice probably saved big headaches on both sides of the equation. All you need to do is look back a few days to Fantastic Four to see what kind of mess can result when directors and filmmakers fight. No one walks away unscathed.
So, for now, Cary Fukanaga's two-part adaptation of It joins the ranks of other "what if" movies in the annals of cinema history. Coming off of Season one of HBO's True Detective, Fukunaga is still a hot commodity, Beasts of No Nation is set to debut on Netflix this October, and you can bet he'll have other high-profile projects line up.
As for It, Warner Bros. moved the film to its more genre-centric New Line imprint, and though the budget has reportedly been cut, the two-part structure is reportedly still in play. They've also pushed forward, as the producers recently hired Andy Muschietti, who directed the Jessica Chastain-starring horror film Mama, to helm the Stephen King-penned story. Originally scheduled to shoot this past June, there's no word on a timeline just yet, as they're still hunting for a new writer.
Your Daily Blend of Entertainment News
Thank you for signing up to CinemaBlend. You will receive a verification email shortly.
There was a problem. Please refresh the page and try again.