Why Chris Pratt Is Crying And Swearing On The Set Of Guardians Of The Galaxy Vol. 2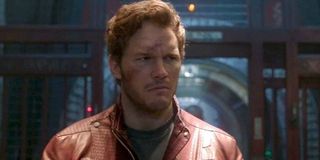 Chris Pratt might be the biggest actor in Hollywood right now, but that doesn't mean he isn't afraid to show off his emotions. And on Wednesday, Chris Pratt had a perfect reason to get teary-eyed, as Guardians Of The Galaxy Vol. 2's writer and director James Gunn took to Twitter to confirm that Kurt Russell had concluded his work on the upcoming blockbuster. Gimme a tissue!
The legendary actor is making his Marvel debut in Guardians Of The Galaxy Vol. 2, and there's been plenty of hubbub over which character the 65-year-old is actually portraying, with many rumors teasing that he will be portraying Peter Quill's father. Obviously, James Gunn didn't reveal who Kurt Russell is in Guardians Of The Galaxy Vol. 2, but he did pay tribute to the godlike individual.
Rather than just leaving James Gunn to doff his cyber cap to Kurt Russell, Chris Pratt soon emerged online to showcase just how much he's going to miss working alongside The Hateful Eight, The Thing, and Escape From New York legend. And to do that right, Chris Pratt decided to add some rather tasty language to his post.
Obviously, one or two people weren't too happy with Chris Pratt's choice of words. So Star-Lord soon jumped back on Twitter to say sorry for his f-bomb, only to immediately undermine his apology with a follow-up swear.
Which is understandable, because this is Kurt "The Motherfucking King" Russell that both James Gunn and Chris Pratt were memorably eulogizing about. Russell's addition to the already sensational Guardians Of The Galaxy Vol. 2 cast, which includes Chris Pratt, Zoe Saldana, Dave Bautista, Vin Diesel, Bradley Cooper, Michael Rooker, and Karen Gillan, has only been rivaled by the tease that Sylvester Stallone might have a cameo in the blockbuster.
But while Sly's appearance is believed to be brief (if it's real), Kurt Russell is clearly in a prominent role as he's been filming in Atlanta on the film now for several weeks. We'll finally learn exactly who he is in Guardians Of The Galaxy Vol. 2 when it's released in just under a year's time on May 5, 2017.
Your Daily Blend of Entertainment News
Your Daily Blend of Entertainment News
Thank you for signing up to CinemaBlend. You will receive a verification email shortly.
There was a problem. Please refresh the page and try again.