Why Dennis Rodman Is Upset With Seth Rogen And The Interview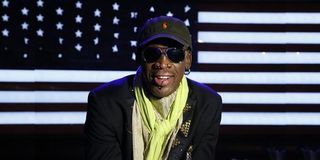 Dennis Rodman doesn't believe the U.S. government. That's not such a surprising sentence, but in regards to the recent Sony hacking scandal, which was apparently caused by North Korea, Rodman thinks it's completely bologna. The former NBA player was unimpressed by The Interview and especially Seth Rogen (who Rodman wants to take to North Korea) and doesn't believe North Korea had anything to do with the hack.
Rodman was in attendance at Sundance this week for the premiere of his Slamdance documentary Dennis Rodman's Big Bang in Pyongyang. The documentary chronicles his travels to North Korea and time spent with Kim Jong Un. With his own connection to the supreme leader, Rodman was first excited for the Seth Rogen and James Franco flick. That was until he saw it. He told The Hollywood Reporter:
Rodman deems himself an expert on North Korea, since he is one of very few Americans to actually spend time in the country, and interact intimately with Kim Jong Un. He told THR that Seth Rogen's associates reached out to him during the production of the film, he was not sure whether it was for a cameo or for consultation, but Rodman was in the middle of putting together his own trip to the country, and could not help. Rodman wishes he could have taken Rogen to North Korea, to show him "what's really going on" and then he could make a 'more realistic' film. But alas, Rodman was just too late.
The basketball player arguably lives in his own world. And North Korea, a country known for its human rights violations, is far from perfect. But, if Kim Jong Un is as manipulative as The Interview portrayed him as, then who knows. Maybe Rodman has to say things like this:
Sounds like an eerily similar situation to James Franco's character, Dave Skylark, in the first half of the film (before he realizes the dictator's niceties are hiding the big picture). Rodman's documentary recounts his last visit to North Korea with a team of basketball players. The film is directed by Colin Offland and premieres today.
Your Daily Blend of Entertainment News
Thank you for signing up to CinemaBlend. You will receive a verification email shortly.
There was a problem. Please refresh the page and try again.