Why Didn't Someone Tell Me Helen Keller Vs. Nightwolves Was A Thing?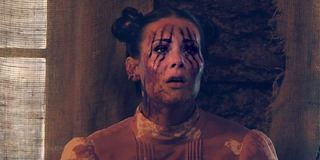 Some movie ideas and premises are simply a work of art. In fact, some are just so damn appealing and intriguing that you can't help but immediately be lulled in by them. Ladies and gentlemen, Helen Keller Vs Nightwolves is one such title. And the entire cinematic community and the world in general is all the better for it being created.
Helen Keller Vs Nightwolves comes from Street Justice Films, and it tells the "shocking story" of a group of nightwolves that are wreaking havoc across a tiny American village by taking its inhabitants' hearing and eye-sight. But there was one woman these wolves didn't count on fighting back: the world's most renowned deaf and blind individual Helen Keller. Intrigued? You better be! Prepare to be wowed because the poster for the horror-comedy has also been released, and it includes a rather spiffing pun that you'll instantly chortle at.
But there's even more. Alongside the above poster, a red-band trailer for the gory, gross-out effort has also been released. You know you want to have a quick peek:
There's just one little problem: Street Justice Films are running relatively low on funds as Helen Keller Vs Nightwolves moves into post-production. In fact it needs your help in order to move over the finishing line. You can head over to Helen Keller vs. Nightwolves' Indiegogo page to assist in their attempt to complete production. You know you want to. It has currently amassed $21,857 of its $58,000 target, and it has 17 days left to reach its total.
And while there's no denying the fact that Helen Keller Vs Nightwolves looks crazy, preposterously over the top and ridiculously stupid, it does feature a rather impressive comedic cast that suggests donating additional funds will be worth your while. You'll almost certainly recognize the likes of Barry Bostwick (Rocky Horror Picture Show), Lin Shaye (There's Something About Mary) Jim O'Heir (Parks and Recreation) and Richard Reihle (Office Space) from their previous work, while Helen Keller Vs Nightwolves also comes from Ross Peterson, the writer and director of FDR: American Badass.
If things go to plan then Helen Keller Vs. Nightwolves will be completed towards the end of the year, while Ross Peterson has insisted that it will be uploaded for all the world to enjoy soon after. You can also keep up to date with the film's progress over at its Twitter and Facebook pages.
Your Daily Blend of Entertainment News