Why Famed Football Coach Jim Harbaugh Loves Darth Vader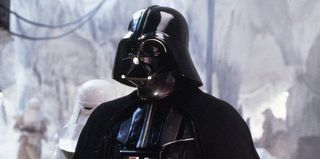 If the United Nations, President Obama, or some other power player on the international politics scene came out and declared this Star Wars day or week or month or year, it wouldn't be terribly shocking. Damn near the entire world is going nuts for Star Wars: The Force Awakens, and isn't just movie fans who love the saga of that far, far away galaxy. Jim Harbaugh, the head football coach at the University of Michigan, is a fan. The coach everyone but Wolverine fans love to hate even has a favorite character, and, surprise, surprise, it's Darth Vader. Of course.
There are some SPOILERS for The Force Awakens beyond this point.
While getting his team ready for the Citrus Bowl on January 1, where the Wolverines will face the Florida Gators, Harbaugh sat down WXYZ, a local ABC affiliate in Detroit. They talked about the game, a key new coach that just joined his staff, and, of course, Star Wars. The first year Michigan coach explained why he's a Vader acolyte, saying:
Maybe Harbaugh can find a place in the ranks of the Knights of Ren in the newly revamped Star Wars universe. They're devotees of the notorious villain, and as we saw in The Force Awakens, Kylo Ren is on a mission to finish what Vader, who turns out to be his grandfather, started so many years ago. He could also join up with the Acolytes of the Beyond, a group that, in the canon novel Aftermath, are similarly Vader-obsessed and purchase what may or may not be his lightsaber. Some suspect that this group eventually morphs into the Knights of Ren, but we don't know for certain at this point.
And of course Jim Harbaugh identifies with the Sith Lord. Now at Michigan, he previously coached the San Francisco 49ers in the National Football League and at Stanford University before that. With a gruff, grumpy personality, he's the kind of coach that you love if he's leading your team but that damn near everyone else despises. (Earlier this season I was watching Michigan play Michigan State and a friend said, "Harbaugh just always looks like he's about to say something shitty.")
The subject of Darth Vader came up when Harbaugh revealed that he and his two sons have a tradition of going to see midnight showings of Star Wars movies. Though he was impressed with The Force Awakens and liked the story, he lamented the fact that there was no Vader and wishes there was a way to bring him back. James Earl Jones has reprised the role in Star Wars Rebels, so anything is possible.
Your Daily Blend of Entertainment News
Thank you for signing up to CinemaBlend. You will receive a verification email shortly.
There was a problem. Please refresh the page and try again.