Why Finding Dory Went With It's Always Sunny Star Kaitlin Olson To Voice A New Character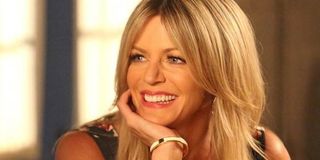 Pixar has never been one to rush a movie just because, and when the Finding Nemo follow up Finding Dory hits theaters later this year, 13 years will have elapsed between films. They like to take their time to get things right instead of simply firing off a sequel. This goes for the script and story to the people they cast in their films, making sure everyone is the right fit. Case in point, Dory features It's Always Sunny in Philadelphia star Kaitlin Olson, and there's a very good reason, the director loves her voice.
In Finding Dory, Kaitlin Olson plays a whale shark named Destiny, a character from the past of the forgetful Blue Tang protagonist Dory, voiced by Ellen DeGeneres. Talking to Yahoo, director Andrew Stanton, who has worked on Finding Nemo, WALL-E, and more for Pixar, revealed why he wanted Olson for the part. He said:
The plot of Finding Dory revolves around the title character, who, as you'll recall from the first film, has some issues remembering things. Set six months after the fact, all of a sudden, Dory's childhood memories come flooding back. Accompanied by Nemo and his father Marlin, she sets out on a journey to find her parents, a journey that takes her to the Monterey Marine Life Institute.
Destiny is one of the new characters Dory and the others meet along the way. A resident of the Marine Life Institute, she is also a new species for the franchise, as we've never met a whale shark before. As she's also a face from Dory's past, Destiny will be one of a number of characters who help her out on her quest to track down her family.
According to Andrew Stanton, though she was always there in one for or another, Destiny went through a number of evolutions as the story and script for Finding Dory grew and changed over time. At one point she had actually taken Dory's place, having been adopted by Dory's parents. In that scenario she may have been something of a rival, but as it turned out, when we see her on screen, Destiny will be a friend from Dory's history.
Finding Dory features a ton of new characters, as well as a slew of notable names lending their voices. In addition to Kaitlin Olson, the cast also features newcomers Diane Keaton and Eugene Levy as Dory's parents, Ty Burrell as a beluga whale named Bailey, and Ed O'Neill as the cranky octopus Hank, among others. There's even a bit of a reunion of The Wire, as Idris Elba and Dominic West both join in as-yet unspecified roles.
Finding Dory opens in theaters on June 17.
Your Daily Blend of Entertainment News
Thank you for signing up to CinemaBlend. You will receive a verification email shortly.
There was a problem. Please refresh the page and try again.