Why Game Of Thrones' Emilia Clarke Passed On Fifty Shades Of Grey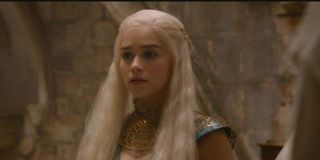 Emilia Clarke has revealed that she turned down the role of Anastasia Steele in Fifty Shades Of Grey because she didn't want to be recognized for constantly doing nudity. Throughout the opening seasons of Game Of Thrones Emilia Clarke regularly went buff, and she's now explained that she doesn't plan on doing so for a role in the near future.
During her chat with The Hollywood Reporter, Emilia Clarke revealed that she was approached to take the leading role in Fifty Shades Of Grey ahead of Dakota Johnson. However, she ultimately decided to turn the project down. And even though the adaptation has gone on to gross over $550 million at the box office, Clake insists that she has, "No regrets."
The actress admitted that she had two meetings with director Sam Taylor-Johnson about starring in Fifty Shades Of Grey, but even though she was curious about the project and how it could impact her career, she was unable to get over the nudity facet of the part - which eventually led to her turning it down. Clarke explained:
It isn't just Emilia Clarke's nudity in Game Of Thrones that led the actress to turn down the coveted Fifty Shades Of Grey role, though. When she appeared on Broadway in 2013 as Holly Golightly in Breakfast Of Tiffany's she was inundated with camera-phones as she dunked into a bathtub in the nude.
But as a student of the Drama Centre London (other alumni including Pierce Brosnan, Michael Fassbender, and Tom Hardy), Emilia Clarke was always going to want to branch out from just one role - and rather than picking Fifty Shades Of Grey as the film to do that for her, she instead chose to pick the role of Sarah Connor in the upcoming blockbuster Terminator: Genisys to prove that she is more than just Daenerys Targaryen
If Terminator: Genisys is as financially successful as expected, then Emilia Clarke could blossom into one of the most in-demand actresses in Hollywood. THR's report says that the actress is set to be paid around $7 million a season when Game Of Thrones enters its seventh season, and while Clarke isn't likely to rake in the amount that Angelina Jolie or Jennifer Lawrence request for their roles just yet, if Terminator is able to catapult her further up the Hollywood echelon then she will instantly be challenging the likes of Emma Watson, Kristen Stewart, Margot Robbie and Shailene Woodley.
Emilia Clarke will just have to see how successful Terminator Genisys is before she leaps to those kinds of assumptions though. The fifth instalment to the franchise is due out on July 1st.
Your Daily Blend of Entertainment News
Your Daily Blend of Entertainment News
Thank you for signing up to CinemaBlend. You will receive a verification email shortly.
There was a problem. Please refresh the page and try again.