Why Hollywood Is Hiring More And More Porn Stars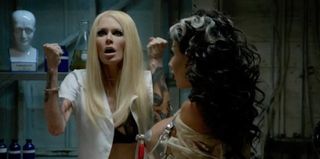 You often hear that one of the most nerve wracking parts of a movie shoot are the scenes where an actor has to strip down and bear it all in front of the camera and crew. Body doubles are often employed for this type of situation for those stars who happen to be a little camera shy. On the other hand, increasingly, the industry is turning to an unexpected source to fill these roles: porn.
When a movie or TV show needs someone to appear naked on screen, they often turn to Howard Levine, who has been producing and distributing adult entertainment for 30 years. Talking to the LA Weekly, he explained why this has become a more common practice, saying:
Stars opt out of getting naked in front of the camera for a variety of reasons. Some simply aren't comfortable with it, others have moral objections to nudity and sex scenes, and even in 2015, there is still a stigma attached to onscreen nudity. There's a pervasive attitude that serious performers don't need to get naked, that there's a tawdriness to the act, and that it will damage your career. Not to mention the fact that any time a big name star gets buck naked, that shit is plastered all over the internet mere seconds later.
For those who opt out, Levine and company are more than happy to provide male and female body doubles for nude scenes, or actors for cameos and small parts in a variety of productions. Especially as more mainstream movies and shows continue to push the boundaries of what you can and can't show (has there ever been an episode of HBO's Game of Thrones without copious amounts of nudity?), the need is only going to continue to rise, and they are increasingly turning to adult entertainers to handle the jobs more inhibited actors don't want.
Adult film star Samantha Bentley has appeared as a prostitute on Game of Thrones; James Deen co-starred with Lindsay Lohan in Paul Schrader's The Canyons; and Sons of Anarchy is full to overflowing with porn stars like Jenna Jameson and others. Some, like Sasha Grey, have even been able to cross over to a degree and find success in more mainstream projects including Open Windows and more. Hardly a new practice, the list of those appearing in more traditional fare is getting longer every day, and Levine and his compatriots don't appear to be running out of business any time soon.
Your Daily Blend of Entertainment News
Thank you for signing up to CinemaBlend. You will receive a verification email shortly.
There was a problem. Please refresh the page and try again.