Game Of Thrones: Lena Headey Used A Body Double For Cersei's Walk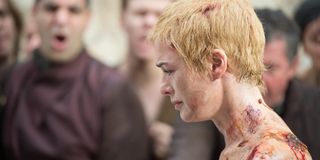 Spoilers if you didn't catch Sunday's episode of Game of Thrones. Everyone still here? Alright, let's go.
During last night's Season 5 finale, "Mother's Mercy," Cersei finally was forced into a position to deal with her demons. While the Queen Mother has spent a good chunk of the season in prison, during the finale she was given the opportunity to confess her sins to the High Sparrow. To atone for these sins, Cersei was then forced to walk naked in public through King's Landing, ending her walk at the Red Keep. This weekend, some fans were surprised to learn actress Lena Headey actually employed a body double for the famous walk.
Game Of Thrones Season 6: What We Know So Far
If you wondered why last night's sequence looked so strange, it's because Headey elected not to show all for the small screen. The move might seem pretty odd to those who are familiar with Headey's body of work. She most famously bared her chest in the movie 300, but the actress has also been nude in other movies like Aberdeen and Fair Game. So, why would she not go nude during this important Game of Thrones scene?
The answer could lie in the fact that Headey is currently pregnant with a baby girl. Headey would have already been pregnant when the famously expensive scene was shot last October, although she would not have been very far along. Still, I'm not certain I'd want to film a nude scene while pregnant and that may have stopped the actress, as well. As one of the leads on the series, Headey may have also worked in a no-nudity clause at some point. Early on we may have seen Emilia Clarke naked while playing Daenerys on Game of Thrones, but that hasn't happened recently. The same might be true of Cersei, as well.
Game of Thrones: Jon Snow's Fate, According To Kit Harington (SPOILERS)
It's a wonder the walk of shame segment even happened, at all. Back in August, the production encountered an obstacle while filming in Croatia. The crew got permission to film outside, but was unable to secure a permit to shoot at a church, which was the original plan. A few months and $200,000 later, the shoot happened, with a body double standing in for Lena Headey. While cell phones were reported to be confiscated, it'd be pretty weird to get naked around that many extras—especially extras who were licensed to call Headey's character a "whore" and "brother fucker." It doesn't get more disconcerting than that.
Although Headey has filmed plenty of controversial scenes for the series, the nude walk wasn't one of them, or at least not as it was shown. She was on set and did facial reactions, but we know for sure she didn't get naked, as EW confirmed there was a body double. So, if you want to catch Headey nude, you'll totally have to rent one of her other flicks. On the bright side, Game of Thrones has already been renewed for Season 6, which will hit the schedule in 2016.
Photo courtesy of Macall B. Polay/HBO
Your Daily Blend of Entertainment News
Reality TV fan with a pinch of Disney fairy dust thrown in. Theme park junkie. If you've created a rom-com I've probably watched it.