Why Jennifer Lawrence Was Terrified Of Starring In The Hunger Games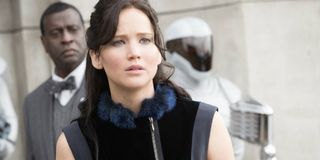 Jennifer Lawrence was cast as Katniss Everdeen in the Hunger Games franchise back in 2011, and she quickly rose to international stardom. Coupled with her kooky personality and Oscar-winning streak, she has created an immense and dedicated fan base that idolizes her. In retrospect, however, the 24-year-old actress was actually terrified of signing on to something as huge as The Hunger Games.
It wasn't all the arrow-slinging action involved with her role that scared her, but rather the fear of blowing something so beloved by its fans. Jennifer Lawrence recently presented an award to Lionsgate CEO Jon Feltheimer at the Producers Guild Awards ceremony with a speech filled with friendly pokes at herself, the Hunger Games franchise and the man of the hour. During her moment, though, she also revealed that there was great hesitation in her when she signed on for what was then the biggest project of her career. She told the audience:
Aside from her inner turmoil, The Hunger Games marked a massive commitment. The first installment came out back in 2012, and what followed was an incredibly packed production schedule. She had to seamlessly segue from Hunger Games to X-Men: First Class to Silver Linings Playbook back to Hunger Games to X-Men: Days of Future Past to American Hustle and back again to Hunger Games (not necessarily in that order). All of this shooting over the past three years or so also came on top of all the various press tours to had to do to promote each of her films. There was a moment back in 2013 when she passed out before the premiere of The Hunger Games: Catching Fire, and she revealed to USA Today (opens in new tab) that she had been suffering stomach pains as a result of intense exhaustion. It's the price you pay for being one of the biggest A-listers of the modern era.
Despite Lawrence's reservations about accepting the Hunger Games mantle, her original director Gary Ross told Entertainment Weekly that it was the easiest casting decision he ever made. After catching his attention with her performance in Winter's Bone, she knocked his socks off with her audition, reading a scene from the film. When Ross was replaced by Francis Lawrence for The Hunger Games: Catching Fire and the two-part Mockingjay, he had similar comments to make of Lawrence. Speaking with the LA Times' Hero Complex, he praised her ability to quickly read people and bring different personalities to her performances.
It's obviously a lot of intense and exhausting work, but also have to love that Jennifer Lawrence continues to be Jennifer Lawrence throughout all of it. As quoted by MTV, the Academy Award winning actress followed up her comments about putting her trust in Lionsgate before joking that the films were a "large fucking failure." You gotta love how true to herself she remains.
Your Daily Blend of Entertainment News
Thank you for signing up to CinemaBlend. You will receive a verification email shortly.
There was a problem. Please refresh the page and try again.