Jennifer Lawrence Just Entered The Guinness Book Of World Records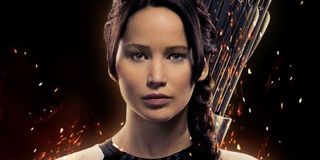 Though just 24 years old, Jennifer Lawrence has already had an extraordinary career. In 2010, she garnered critical acclaim--not to mention her first Academy Awards nomination--for the gritty indie drama Winter's Bone. In 2013, she won her first Oscar for Silver Linings Playbook, and the following year earned a third nod for her scene-stealing turn in American Hustle. But it's been The Hunger Games that has made her an international icon, not to mention a Guinness Book World Record holder.
Movie Pilot reports Jennifer Lawrence will have her name included in the 2015 Guinness Book of World Records, which will officially name her the highest-grossing action heroine the world has ever known. This latest edition of the almanac of every accomplishment--from the incredible to the odd and arcane--will hit bookshelves on September 11th, 2014.
Lawrence owes this honor completely to Katniss Everdeen, the tenacious protagonist at the center of The Hunger Games franchise. It's almost hard to remember when the first film in this series seemed like a major risk, demanding audiences to turn out to a movie with a rising starlet as its lead. Of course, under the direction of Gary Ross, The Hunger Games lit up at the box office.
Its opening weekend, this adaptation of the popular Suzanne Collins' novel not only won the top spot, but did so with an outrageous total of $152 million dollars. For some idea of scale, that's $24 million more than the established superhero sequel Iron Man 2 managed on it debut. By the time The Hunger Games left theaters, the female-fronted actioner had pulled in more than $691 million worldwide, breaking box office records, and launching Lawrence to superstar status.
In the winter of 2013, The Hunger Games: Catching Fire fared even better. It raked in $158 million opening weekend, $424 million domestic and $864 million worldwide. Surpassing The Hunger Games, the second installment became the highest grossing action heroine movie ever, blowing past Linda Hamilton's Terminator 2: Judgment Day ($204 mil domestic), Angelina Jolie's Mr. & Mrs. Smith ($186 mil), and Sigourney Weavers Aliens ($85 mil). The Hunger Games: Catching Fire also earned the title of highest domestic-grossing film of 2013, beating out Iron Man 3. Plus it broke into the #10 spot for highest domestic grossing films of all time, right behind E.T.: The Extra Terrestrial.
Just two movies in to a four-film franchise, The Hunger Games series has already made $1.52 billion worldwide. And with excitement over The Hunger Games: Mockingjay - Part 1 reaching a fevered pitch ahead of its fall release, it looks like Katniss's world dominance is destined to continue.
Could she beat Guardians of the Galaxy out of their top spot on the domestic charts? Might she be able to topple Transformers: Age of Extinction from its reign of the worldwide charts? We'll see when The Hunger Games: Mockingjay - Part 1 opens November 21st, 2014.
Staff writer at CinemaBlend.
Your Daily Blend of Entertainment News
Thank you for signing up to CinemaBlend. You will receive a verification email shortly.
There was a problem. Please refresh the page and try again.