Why Jeremy Renner Doesn't Think Hawkeye Deserves His Own Movie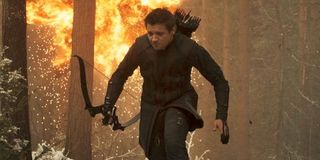 As things stand in the Marvel Cinematic Universe, Jeremy Renner's Hawkeye is easily identifiable as the most under utilized character. He showed up for all of 30 seconds for a (admittedly fun) cameo in Kenneth Branagh's Thor, and then he was forced to do Loki's bidding while under hypnosis for most of Joss Whedon's The Avengers. The good news is that Marvel is aiming to correct this course in the upcoming The Avengers: Age of Ultron - but if you're anticipating a Hawkeye solo movie at any point, you probably shouldn't hold your breath. Why? Because it seems that Renner is actually quite okay with his somewhat limited role in the comic book movies at this point.
Currently on the press tour promoting his new movie Kill The Messenger, the Academy Award-nominated star recently sat down with MTV, and during the chat the actor revealed that he doesn't really have much ambition in terms of demanding a Hawkeye film. Instead, he thinks that the character has found a niche role in the Marvel Cinematic Universe and is best utilized within a team dynamic - for example, possibly in Joe and Anthony Russo's upcoming Captain America 3. Said Renner,
Renner finished this quote with more than a couple sly winks, which one could assume is confirmation that he will indeed be a part of Captain America 3 - as was first rumored last month. This would go a long way in making up for the fact that the character didn't appear in Captain America: The Winter Soldier earlier this year - though it's been said that The Avengers: Age of Ultron will feature an explanation for his absence. Hawkeye originally had a full sequence for himself written in the movie, but it was ultimately decided by the filmmakers that they didn't want to short change the character for a third time (particularly when compared to Scarlett Johansson's Black Widow's extended role in the film).
While I am excited that Jeremy Renner's Hawkeye is going to be in Captain America 3, I do feel somewhat disappointed that the actor's view on the guy is just as a supporting player. The character has been the lead of many comic book runs, and he was very recently the focus of an acclaimed series written by Matt Fraction and illustrated by David Aja. With the right approach and the right filmmaker, a Hawkeye movie could be amazing.
On the other hand, Renner might be happy keeping Hawkeye in a limited role not because the character doesn't have enough depth, but simply because he has so much else going on in his career. In addition to movies like Kill The Messenger, he also plays a plays huge parts in both the Mission: Impossible and Bourne franchises. Maybe he's just starting to feel as though he's being stretched too thin.
You'll be able to see Renner next in Kill The Messenger - which comes out October 10th - and he'll be strapping on his Hawkeye gear again when The Avengers: Age of Ultron hits theaters May 1, 2015.
Assistant Managing Editor
NJ native who calls LA home and lives in a Dreamatorium. A decade-plus CinemaBlend veteran who is endlessly enthusiastic about the career he's dreamt of since seventh grade.
Your Daily Blend of Entertainment News
Thank you for signing up to CinemaBlend. You will receive a verification email shortly.
There was a problem. Please refresh the page and try again.