Why Jeremy Renner Has Serious Issues With Mission: Impossible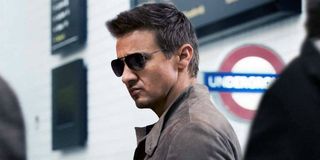 Avengers star Jeremy Renner may not care about those rumors about him being gay floating around, but he does take issue with the new Mission: Impossible movie. Renner reprises his role of IMF agent William Brandt in Rogue Nation, having already been featured in Ghost Protocol. He is used to the hustle and bustle of the franchise and went with it, for the most part. However, in a new interview, the actor looks back at his time making this film and reveals that he was kept in the dark for most of production.
Renner spilled the beans to Playboy magazine. Though he said Rogue Nation is just like any other Mission: Impossible movie — meaning, there are lots of cool action sequences and set pieces — the fact that he didn't know what the heck was going on more than half of the time was incredibly frustrating from an artist's perspective. He said,
Does this situation sound familiar? It actually sounds a lot like the production protocols implemented for some of the Marvel movies and Star Wars: The Force Awakens. Some of the actors, like Greg Grunberg (Matt Parkman from Heroes Reborn), were only given portions of the script for Star Wars, just enough for them to know what scenes they were in. In a similar turn, Anthony Mackie didn't even know he was in Avengers: Age of Ultron until the movie posters came out and the credits listed his name. In these cases, the non-disclosure is to preserve the stories' secrets as much as possible. Actors — and even Marvel executives, as we've recently seen with Kevin Feige slipping the Guardians of the Galaxy 2 title — can let things slip early on. However, in the case of Rogue Nation and looking in from an outsider's standpoint, it seems counterproductive for this situation to occur.
That said, McQuarrie is a pretty solid person to place one's trust. M:I - Rogue Nation will see Renner return alongside Cruise, Simon Pegg and Ving Rhames for a mission to take down the Syndicate, otherwise referred to as the anti-IMF. The trailers have already backed up Renner's claims that there will be loads of glorious action, including a moment when Tom Cruise is dangling off of a jetting plane. The film opens in theaters on July 31, and we can only hope that the filmmaker's decision to keep Jeremy Renner in the dark works out in his favor.
Your Daily Blend of Entertainment News