The Great Lengths Star Wars 7 Went To In Order To Keep The Script Secret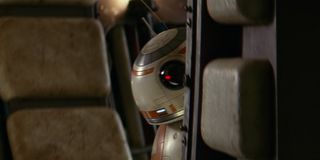 Star Wars: The Force Awakens is the most highly anticipated movie of the year, and, therefore, certain precautions had to be taken. Director J.J. Abrams is already secretive about his projects, but the paparazzi were out in full force trying glean as many details as they could from the film, not to mention all the journalists sleuthing around for a look at that script. Heores star Greg Grunberg has a role in The Force Awakens and recently spoke to some of the tactics used to keep the script a secret.
Grunberg is signed on for three films and is reportedly playing an X-Wing pilot, which, if true, would likely place him in cahoots with Oscar Isaac's character. Grunberg recently spoke with Entertainment Weekly about the film, and the term red tape doesn't really begin to encompass everything imposed on the actors. He said:
Thankfully, as we've heard from a number of the other actors before, everyone seems committed to protecting the film's secrets, even if they have to go to these great lengths. Mark Hamill, who reprises his role of Luke Skywalker, said he had to wear a hood to cover up his face and costume while walking to and from the set. Even though they filmed in remote locations, the production crew was worried about drones flying overhead — which we've already seen was an actual issue. Dohmnall Gleeson, whose role is unknown, also said that everyone exhibits a genuine love for the franchise, which makes them all want to protect it from pesky snoops. It's Abrams' hope that audiences can go into theaters having remained unspoiled by the rumor mill.
Though we've already seen the special presentation at Star Wars Celebration, as well as two teaser trailers, there's still a great deal we don't know about Star Wars: The Force Awakens. That said, we know that John Boyega plays a Stormtrooper on the run named Finn, Daisy Ridley is a scavenger named Rey on the desert planet of Jakku, Oscar Isaac is playing an X-Wing pilot named Poe Dameron, Gwendoline Christie plays the "Chrometrooper" Captain Phasma, Lupita Nyong'o shows up as a space pirate named Maz Kanata, Andy Serkis plays Supreme Leader Snope, and Adam Driver is a new Sith threat named Kylo Ren.
The Force will awaken in theaters on December 18.
Your Daily Blend of Entertainment News