Why John Green Has No Problem With Cara Delevingne's Awkward Interview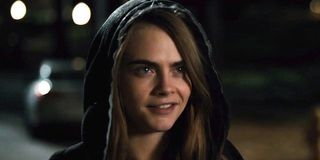 Not a ton of people went to see Paper Towns last weekend, though along the promotional trail, star Cara Delevingne did manage to make headlines by giving one of the most awkward, talked about interviews in recent memory. Her answers to questions on Good Day Sacramento caused quite a stir and split viewers into two camps, those who thought she was out of line, and those who thought the interviewers were. One of the young actresses supporters in this public fracas is John Green, who wrote the book Paper Towns is based on.
Writing on Medium, Green, who also penned last year's mega teen weepie The Fault in Our Stars, rose to Delevingne's defense, praising her for refusing to give the same bland answers to the same bland questions actors hear constantly on the press trail. He wrote:
Just in case you missed the incident in question, Delevingne appeared on the local morning show in the California state capital to promote Paper Towns. Not only did the overly perky talk show hosts get her name wrong, calling her Carla, they proceeded to lob a bunch of lazy, boring questions at her, and rather than deliver the same tepid answers most actors usually hand in, she refused to play the part.
As the author of the book in question, Green has a unique perspective. Spending a month on tour with Delevingne promoting the film and saw her answer the question of whether she read the book or not countless time. He also notes that her male costar, Nat Wolff was routinely asked when he read the book, not if. Overall, he is critical of the junket process as a whole, where you give hundreds of interviews which have little to differentiate them from the dozens before and after.
Some have claimed that Delevingne was surly and combative, refusing to go along, and the hosts said she must be "tired." Still others think she reacted understandably to a lousy string of uninspired, uninteresting questions. Take a look at the video of the interview and judge for yourself.
While Paper Towns may not have generated the hype and acclaim that the producers, stars, and filmmakers hoped for, another one of Delevingne's upcoming projects has certainly sent the hype meters into the red. She is one of the rogues gallery of characters in DC's Suicide Squad, where she plays Enchantress, and coming out of San Diego Comic-Con a few weeks back, that first awesome trailer set the internet on fire. While she may not quite be a household name just yet, that will certainly raise the young actresses profile quite a bit, and hopefully she won't be called Carla as much in the future.
Paper Towns is in theaters now, while Suicide Squad hits theaters August 5, 2016.
Your Daily Blend of Entertainment News