Why The Last Green Arrow Adaptation Attempt Never Happened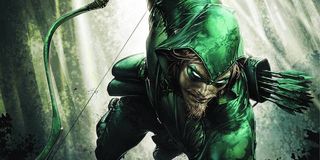 Right now, Oliver Queen, a.k.a. the Green Arrow, is enjoying enormous success on The CW's Arrow, but years before the character got to star in his own TV series, there were plans to have him lead a movie. Back in the late 2000s, Man of Steel screenwriter David S. Goyer wrote a script titled Green Arrow: Escape From Super Max, which would have seen the Emerald Archer trapped in an Alcatraz-like prison for super villains. That project never got off the ground, and now Goyer revealed why it was killed all those years ago.
Noting its similarities to 2016's Suicide Squad, Goyer told Den of Geek that Green Arrow: Escape From Super Max's banishment to development hell was because it was ahead of its time. According to Goyer:
Goyer also pointed out Escape From Super Max was written right before Marvel had really "taken off," not to mention years before oddball superhero movies like Guardians of the Galaxy and Ant-Man were released. Like Goyer said, at the time he was working on th script, Warner Bros. was primarily interested in focusing on Batman and Superman. Batman Begins had rebooted Gotham City's shadowy protector in 2005, and its sequel, The Dark Knight, opened in 2008 to enormous praise. Superman Returns was released in 2006, but it didn't perform to expectations, and the Kryptonian hero's franchise was rebooted in 2013 with Man of Steel. With the exception of 2011's Green Lantern, it wouldn't be until the establishment of the DC Extended Universe that major heroes besides Bats and Supes got much attention.
Should it have been made, Green Arrow: Escape From Super Max would have seen Oliver Queen (already an established superhero) framed for a crime he didn't commit and subsequently locked in the Super Max prison. Although the main antagonist would have been an original character named Marcus Cross, Super Max would have featured cameos of villains from around the DC universe, like Lex Luthor, The Riddler, and The Joker. Even though the movie never saw the light of day, at least fans can be thankful Green Arrow was getting some kind of live action treatment through the TV series Smallville. Arrow also made a subtle reference to the project in the Season 2 finale as the name of the prison where Slade Wilson, a.k.a. Deathstroke, is being held.
Right now DC and Warner Bros. are focused on telling Green Arrow's story on television, but there's always a chance that the DCEU could introduce their own version of Green Arrow at some point. Hey, if there can be a movie Flash and a TV Flash, why can't it be the same for the Emerald Archer?
Connoisseur of Marvel, DC, Star Wars, John Wick, MonsterVerse and Doctor Who lore. He's aware he looks like Harry Potter and Clark Kent.
Your Daily Blend of Entertainment News
Thank you for signing up to CinemaBlend. You will receive a verification email shortly.
There was a problem. Please refresh the page and try again.