Why Rick Moranis Was Fired From The Breakfast Club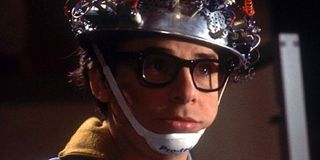 As The Breakfast Club, John Hughes' groundbreaking comedic teen drama, celebrates its 30th anniversary with an upcoming digitally remastered re-release, it's fun to reflect on certain aspects of the film that could have been, but never were. Most notable was the fact that iconic comedian Rick Moranis originally had a critical role in the film, only to see his performance end up on the cutting room floor.
According to an excerpt from Kirk Honeycutt's upcoming biography, John Hughes: A Life in Film, published in Vanity Fair, the almost mythical idea of Rick Moranis' involvement in The Breakfast Club took the form of the character, Carl the Janitor. While Hughes was initially "ecstatic" to have Moranis in the cast, the actor would apparently take an egregious creative liberty, reinventing the character with an over-the-top Russian accent. Honeycutt's book recounts the story as told to him by co-producer, Michelle Manning, which implicates producer, Ned Tanen as being responsible for the canning of Moranis. As Tanen reportedly told Hughes:
Yet, Hughes apparently stood by Moranis' performance in the discrepancy, telling Tanen that he couldn't possibly fire an actor as respected as Rick Moranis. However, this prompted an obstinate Tanen to lay down the law and respond, "Then I guess I have to."
It was an act that he obviously carried through, leading to the role being recast with John Kapelos, who played the role more in the way that was originally written in Hughes' script. While losing that role didn't exactly make a dent in the career of Moranis -- who went on to several other prominent projects throughout the 1980's -- it was a lost opportunity to be part of a watershed film.
It may also be noteworthy to bring up that John Kapelos' interpretation of the Carl the Janitor character served a crucial narrative part in the dramatic coming-of-age comedy. In essence, his character, while lurking about the halls during the film's famed 7 AM Saturday detention was, in a certain sense, the film's omniscient conscience. He had valuable interactions with the hubris-imbued teens, notably Judd Nelson's John Bender, who scoffed and looked down on him as just some weird guy with nothing more to contribute to the world than walking around the school with a mop and bucket, dumping sawdust on puke. However, he clearly showed himself as an equally sarcastic wise-guy whose lot in life clearly came about by embracing the same hubris for far too long. He was a possible look at Bender's future.
Likewise, Carl also put Paul Gleason's assistant principal Vernon in his place, forcing him to come to terms with his own resentment towards the kids he professes to guide, who he dismisses into stereotypes of the most "convenient definition," setting up the theme of the film's concluding thoughts. Thus, while the thought of having Rick Moranis in The Breakfast Club seems like a lost opportunity, the idea that he played this critical role of Carl with a possibly cheesy Russian accent may have been counterproductive. So, perhaps, we should not look back on Ned Tanen's move with resentment, since he was probably right!
Don't you…forget about…the digital remastered version of The Breakfast Club, which premieres at SXSW in Austin, Texas on March 16. It will subsequently hit 430 select theaters nation-wide on two select dates of March 26 and March 31.
Your Daily Blend of Entertainment News