Why The Silence Of The Lambs Author Refused To Watch The Movie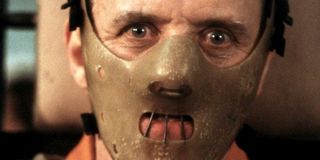 The Silence Of The Lambs is one of the most chilling thrillers of the last 25 years. Unfortunately, one person who has been unable to revel in the cinematic splendour of Jonathan Demme's 1991 classic is the author of its source material, Thomas Harris. While it's kind of a shame that Harris never got to enjoy the film himself, his reason was pretty solid: he wanted to keep writing his books the way he envisioned them.
Jonathan Demme explained to Deadline that just before he started shooting The Silence Of The Lambs, he gave Thomas Harris a courtesy call to insist that he was going to do his novel justice. And while Harris insisted that he was the perfect choice to direct, and the casting was sublime, the author admitted his one crucial decision when it came to the film's production. The inspiration for Harris' decision, according to Demme himself, was the following:
Considering the quality Sir Anthony Hopkins' rather celebrated performance as Hannibal Lecter, it probably means that Thomas Harris was right to not watch The Silence Of The Lambs. Not to mention, Harris would go on to write 1999's Hannibal and 2006's Hannibal Rising , thus drawing the story he started with 1981's Red Dragon to a fitting conclusion. However, if he saw Demme's film, it would have been extremely painful to try and wrangle past and future incarnations of his legendary character after seeing Sir Hopkins' artful rendition, possibly leaving us with merely two books instead of four.
Released in 1988, Thomas Harris' The Silence Of The Lambs achieved notable success, earning rave reviews because of his stirring and gripping writing. In fact, it picked up the 1988 Bram Stoker Award for Best Novel and 1989's Anthony Award for Best Novel. Harris' novel was more than properly transplanted to the big-screen by Jonathan Demme, as the director meticulously and painstakingly did justice to the source material. As a matter of fact, Demme felt so guilty about changing the ending, he paid a visit to Harris while in Miami to personally discuss what he had in mind for the new conclusion of the film.
It was there that Thomas Harris gave Jonathan Demme his blessing to alter the story's finale, before then adding one final detail regarding writer Ted Tally and Demme's idea that Hannibal Lecter is in Bimini at the end of The Silence Of The Lambs. Thomas Harris noted that Lecter would never sweat, which is why Demme insists that in the finale, "everybody's sweating like crazy, except Dr. Lecter." Whether he be in print, or on the screen, Hannibal Lecter will always be enough of a legendary villain to have us sweating - no matter the conditions we inhabit.