Why Black Mass Would Feel Right At Home With Scorsese's Best Gangster Films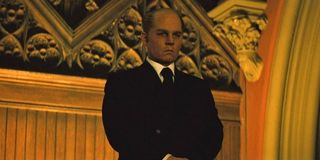 It's no small compliment when I tell you I believe Scott Cooper's Black Mass can run with Scorsese's mob trilogy of Goodfellas, Casino and, especially, the South Boston-flavored The Departed. It's that dirty, nasty and compelling.
Can you remember how commanding Johnny Depp was in Donnie Brasco, or how captivating he was in Ed Wood? Do you recall when Depp owned the screen in movies like Blow, Edward Scissorhands, Fear and Loathing in Las Vegas and, yes, even Pirates of the Caribbean. (The first one, at least.) He's that good in Black Mass, larger than life and barely contained to the screen as he turns true-life Boston crime lord James "Whitey" Bulger into a menacing, intimidating and dangerously unpredictable snake in the grass.
Bulger's story is a classic American gangster tale, the stuff that essentially writes itself for the screen (no disrespect to Black Mass screenwriters Mark Mallouk and Jez Butterworth, who wring tension and fear out of Bulger's criminal reign). From the early 1970s until 1994, Bulger and the sadistic members of his Winter Hill Gang lorded over South Boston's tight-knit neighborhoods – feuding with Italian rivals and manipulating local law enforcement. But Bulger also made a deal behind the scenes with the FBI in 1975 to serve as an informant, and it's this seedy relationship that gives Black Mass its spine.
Depp isn't asked to hoist Black Mass on his back and carry it the distance, though. On the FBI's side, Cooper casts the fantastic Joel Edgerton as John Connolly, a childhood friend (and fellow Southie) of Bulger's who puts his neck on the line and convinces his superior (Kevin Bacon) that a deal with the crime boss can be beneficial to the Bureau. And for a short amount of time, it seems to be working. Bulger gives the FBI information about his rivals, then operates his own criminal operations under the "protection" provided by having assistants in law enforcement. Nothing sticks to Bulger, so it's damn-near impossible to bring him down – even though he's involved in everything from drugs and racketeering to murder.
Black Mass is a rock-solid, well-structured and brutal crime drama. It covers so much blood-soaked ground in Bulger's sketchy history, but doesn't shortchange the audience from understanding the man's impact and influence. If Cooper's approach to the genre differs from Scorsese in one important way, it's that there are no rock-music cues or bouts of uncomfortable, dark levity to break the tension. Black Mass is cutthroat and mean. It looks dirty and angry. But you can't take your eyes off of it.
It's also an actors' showcase. Depp and Edgerton are so in sync as unlikely "brothers" in a criminal alliance that everyone else in the star-studded cast rises to meet the bar they collectively raised. Huge names fill relatively small roles, and they all deliver – from Bacon to Benedict Cumberbatch, Peter Sarsgaard to Dakota Johnson, Corey Stoll to Juno Temple, Julianne Nicholson to Jesse Plemons.
The one thought I kept having during Black Mass is that my father, a retired New York Police officer who loved seedy crime dramas, would adore the hell out of this one. That's high praise.
This review was filed during the 2015 Toronto International Film Festival.
Sean O'Connell is a journalist and CinemaBlend's Managing Editor. He's frequently found on Twitter at @Sean_OConnell. ReelBlend cohost. A movie junkie who's Infatuated with comic-book films. Helped get the Snyder Cut released, then wrote a book about it.
Your Daily Blend of Entertainment News
Thank you for signing up to CinemaBlend. You will receive a verification email shortly.
There was a problem. Please refresh the page and try again.