Jedi Fighting Dogs? Star Wars: Episode VIII's Director Dreamt A Bizarre Star Wars Scene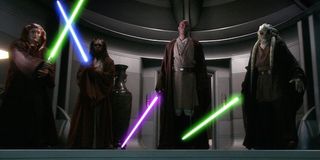 For over a thousand generations the Jedi Knights were the guardians of peace and justice in the Old Republic, which means they must have dealt with a variety of threats. Over the six Star Wars movies, the peacekeepers fought enemies ranging from Sith Lords and bounty hunters to battle droids and fighting ring beasts. That will continue when the next wave of Star Wars movies kick off later this year, but Star Wars: Episode VIII director Rian Johnson dreamt of a particularly unusual enemy for the newest generation of benevolent Force wielders to face: dogs.
You can find the whole story on Johnson's Twitter feed, but here's the summary. Earlier this week, Johnson dreamt he was storyboarding an action scene so great that even if Episode VIII was a disaster it would, "blow the roof off the theater." Then he experienced a moment of lucidity within the dream and concentrated hard enough so he remembered the sequence. When he woke up, he was able to remember shot for shot what he had imagined: a dog fighting a Jedi aboard a canoe. Here's the Looper director's sketch of the bizarre showdown.
A canoe makes a poor battleground (though nowhere near as tricky as Anakin Skywalker and Obi-Wan Kenobi fighting on Mustafar's lava rivers), but the bigger question is how these dogs became formidable enough to fight Jedi. Have they been genetically enhanced or have these dogs been touched by the Dark Side? I wouldn't put it past a Sith Lord to sic these these twisted mongrels on their mortal enemies. On the other hand, maybe these dogs live on a planet where they evolved to become…I'm putting way too much thought into this, aren't I?
As crazy and awesome as this dog vs. Jedi battle would be, it's doubtful we'll ever see something like this realized on the big screen, though in a galaxy far, far away, you never know what might be lurking around the next corner. Frankly, we really don't know what to expect for Star Wars: Episode VIII. Johnson was hired to write and direct the project a year ago (he is also writing the treatment for Episode IX), but aside aside from minor tidbits like the fact that it's being shot on 35 mm film, nothing has been revealed plot-wise. Daisy Ridley has said that she'll appear in Episode VIII, so presumably her co-stars John Boyega and Oscar Isaac will also reprise their roles, along with most of the old and new characters that don't bite the dust in Star Wars: The Force Awakens.
Star Wars: Episode VIII will be released in theaters on May 26th, 2017.
Connoisseur of Marvel, DC, Star Wars, John Wick, MonsterVerse and Doctor Who lore. He's aware he looks like Harry Potter and Clark Kent.
Your Daily Blend of Entertainment News
Thank you for signing up to CinemaBlend. You will receive a verification email shortly.
There was a problem. Please refresh the page and try again.