Why The New Tetris Movie Is A Terrible Sign For Hollywood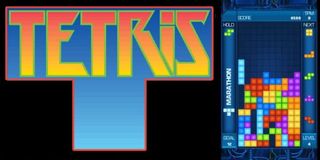 I know. You hear there's going to be a Tetris movie, and instinctively roll your eyes while bellowing, "Hollywood has officially run out of ideas." I hear you. But it gets worse, because Hollywood thinks this is the thing that will turn around low theater attendance. "Things" are the new stars, don't you know.
The Wall Street Journal dropped the bomb that the puzzle-based video game Tetris is being turned into a live-action video game by Threshold Entertainment. While that is far from promising news, it's a quote by Threshold CEO Larry Kasanoff that has us slamming head to desk. Kasanoff declared:
This line may seem cynical, or like douchey buzz words gone mad. But Kasanoff may have a point. Star power has been an unreliable factor this year with the Tom Cruise-fronted Edge of Tomorrow being bested opening weekend by the Shailene Woodley-led Fault In Our Stars. Franchises from The Hunger Games to the ever-sprawling Marvel Cinematic Universe dominate year-end box office totals--though I would argue the star power of Jennifer Lawrence and the like of Robert Downey Jr. have their part to play there. But one of the most acclaimed and highest grossing movies of the year was built entirely from a beloved brand from our childhoods.
No, not that one--Teenage Mutant Ninja Turtles did make scads of money ($342 worldwide). It didn't win widespread critical acclaim.
Oh. Actually Dawn of the Planet of the Apes is a great guess. It was critically adored and raked in $693 million worldwide. But I actually meant this one:
The LEGO Movie is currently the third highest domestic grossing movie of 2014, falling behind Captain America: The Winter Soldier and Guardians of the Galaxy. And it's a movie that at its core is about building blocks. So, maybe it's not so crazy that a producer of a different building blocks movie believes in brands over celebrity. (Though we'd like to take this opportunity to point out it's unlikely coincidence that charm bomb Chris Pratt is in two of the three biggest U.S. hits this year.)
But what can we expect from a Tetris movie? Well, Kasanoff, producer of the 1995 Mortal Kombat adaptation, is talking a lot, but saying little. "It's a very big, epic sci-fi movie," he assures. "This isn't a movie with a bunch of lines running around the page. We're not giving feet to the geometric shapes." He adds, "We have a story behind Tetris which makes it a much more imaginative thing."
Lastly, try your best to make sense of this bite of Kasanoff world salad: "What you [will] see in 'Tetris' is the teeny tip of an iceberg that has intergalactic significance."
Everything's not awesome.
We'll give you more on this story as it develops.
Staff writer at CinemaBlend.
Your Daily Blend of Entertainment News
Thank you for signing up to CinemaBlend. You will receive a verification email shortly.
There was a problem. Please refresh the page and try again.