Why Toby Stephens Really Wants To Be In A Marvel Movie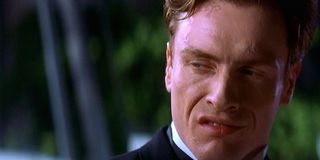 At the moment, Toby Stephens may be more likely to don a pirate hat than to put on a full spandex body suit, due to his role as Captain Flint in Black Sails. But that doesn't mean he still wouldn't like the opportunity to sport his own skintight costume, mask or cape. In fact, he's recently gone out of his way to vocalize his yearning desire to suit up as a superhero, specifically a Marvel character. Stephens not only thoroughly enjoys Marvel movies, but also thinks that they blend all of the perfect elements.
There's no doubt Stephens must be a fan of the Marvel Cinematic Universe. I mean, who isn't these days, right? This is at least the second time the British actor, and son of actors Dame Maggie Smith and Sir Robert Stephens, has voiced his interest in appearing in one of their upcoming movies. Here's what Stephens had to say in a recent sit down with RadioTimes:
Sounds like a pretty open invitation to us. The man clearly enjoys the Marvel films; he gets the duality in tone, he appreciates the overall arc in story, he's proved he can act on a number of occasions (The Great Gatsby 2000 remake anyone?)... AND he's willing to fight on either side! Stephens is clearly ripe to make an appearance. Well, he better start banging down doors because with MCU's Phase Two all but complete and Phase Three already in pre-production, the opportunities are already beginning to dry up before our very eyes.
Stephens is no stranger to large-scale production or action films. It was in 2002 that he played the role of Gustav Graves in the 20th James Bond film Die Another Day; a part that probably wouldn't be all that foreign to the Marvel universe. Graves was actually an alternate identity for North Korean Colonel Tan-Sun Moon, who after undergoing a painful gene-replacement therapy that replaced his DNA with that of another, gave him the identity of British Caucasian male Gustav Graves. "It was great fun and about as ridiculously camp as Bond could get," Stephens said of playing Graves. "Then Daniel Craig took over and it all got very serious." Upon flashing back to Die Another Day, we couldn't help but to agree with Stephens. The Bond films have gotten a bit serious, haven't they? Oh well, that's a discussion for another time.
Stephens can currently be seen in the STARZ series Black Sails, where he plays the rough and tough Captain Flint. The gritty, void of cliché, series follows Flint and his crew of pirates on their high seas voyages two decades prior to Robert Louis Stevenson's classic "Treasure Island."
Your Daily Blend of Entertainment News
Thank you for signing up to CinemaBlend. You will receive a verification email shortly.
There was a problem. Please refresh the page and try again.