Why Tom Hardy Bailed On Suicide Squad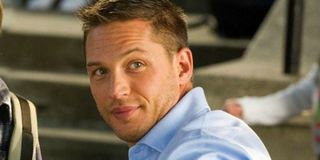 Tom Hardy's Suicide Squad departure was both a big blow to the film itself and movie fans across the world who pined to see how his bombastic screen presence would coincide with the character of Rick Flag. As it turns out, the English actor was just as disappointed as the rest of us when he was forced to drop out of the blockbuster, and he's now explained that a scheduling conflict meant that he had no choice in the matter.
Hardy, who is currently at the beginning of his Mad Max: Fury Road press duties, spoke to Collider about his Suicide Squad omission, admitting that because filming on Alejandro Gonzalez Inarritu's The Revenant had overshot by three months he just didn't have the time to portray the DC villain. Said the actor,
When Tom Hardy originally left Suicide Squad , there were a few rumors that it had been because his intended role of Rick Flag had been severely reduced. However, during the same interview Hardy made it perfectly clear that not only was he really excited to star in such a hugely anticipated event picture, but that he didn't want to let the studio down either. "Warner Bros. is my home studio and I love them so I was really bummed out," Hardy admitted in a surprisingly loyal diatribe. Hardy's upcoming frenetic, action-packed effort Mad Max: Fury Road has also been produced by Warner Bros., but that's far from his only time working with the studio. Titles like The Dark Knight Rises, in which he portrayed Bane, 2008's Rock N Rolla, and Inception were all made under the WB banner.
But he wasn't just disappointed because of his loyalty to Warner Bros. Hardy also predicted that Suicide Squad is going to be a cinematic bonanza, as he praised David Ayer's script and stated that the opportunity to star opposite Will Smith and in a film possessing The Joker was tantalizing for him. Unfortunately, it just wasn't meant to be, and when David Ayer uploaded a teaser image of the Suicide Squad together over the weekend it was a tad heart-breaking not to see Hardy in the lineup (having since been replaced by Joel Kinnaman).
But Hardy's involvement in Suicide Squad is in the past, and Kinnaman is a more than adequate stand-in who has steadily excelled in everything in which he has starred - even when these films have been remarkably average. Kinnaman is just one of a number of exciting actors who will be starring in Suicide Squad, as he will be joined Will Smith, Margot Robbie, Jared Leto, Jai Courtney, Cara Delevingne, and Viola Davis too. Suicide Squad will be released on August 5, 2016.
Your Daily Blend of Entertainment News
Your Daily Blend of Entertainment News
Thank you for signing up to CinemaBlend. You will receive a verification email shortly.
There was a problem. Please refresh the page and try again.