Why We Didn't See Jor-El In Batman V Superman, According To Russell Crowe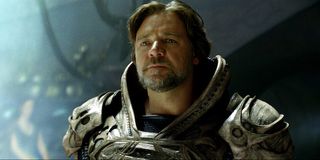 For decades, Marlon Brando was the actor who almost everyone associated with Superman's Kryptonian father, Jor-El, but in 2013's Man of Steel, Russell Crowe inherited the role. Moviegoers watched him save his son from their home planet's annihilation and his consciousness assist Kal-El years later. However, Jor-El didn't reappear in Batman v Superman: Dawn of Justice, and according to Crowe, the adjustments made to the movie led to his absence from the story.
While plugging his new movie, The Nice Guys, with Digital Spy, Russell Crowe revealed that no approached him about reprising Jor-El due to the plans changing on following up on Superman's life in the DC Extended Universe. He said:
Shortly before Man of Steel was released, Warner Bros announced that a sequel was in development, but only a month later, it was revealed at San Diego Comic-Con that Batman would appear in the same movie. As the months passed, it became clear that the Man of Steel follow-up wouldn't be what was originally Man of Steel 2, and eventually its title was announced: Batman v Superman: Dawn of Justice. So even though that movie did reunite moviegoers with Clark Kent in his personal and superhero life, it's not technically a self-contained Superman movie. Right now, Superman's only future appearances are in the Justice League movies, and while Man of Steel 2 has been talked about, it's not officially on the DC film slate yet.
Just like his comic book counterpart, Russell Crowe's Jor-El took steps to ensure that his son would survive Krypton's destruction, but before dying, he replicated his consciousness as an artificial intelligence that guided Kal-El as an adult. Near the end of Man of Steel, Jor-El's consciousness was seemingly erased by General Zod, so story-wise, that's a suitable reason for Crowe not returning for another movie. However, if the creative team wanted him back, surely they could find a way for Jor-El to return, whether through flashbacks or his consciousness not being permanently gone. Aside from Superman, the only other Kryptonian present in Batman v Superman: Dawn of Justice was Zod, and not only was he long dead, but his corpse was eventually transformed into Doomsday. Should Superman get another solo adventure, getting some more help from his dad would be most appreciated.
You can currently see Russell Crowe alongside Ryan Gosling in The Nice Guys, and Superman will return to the DCEU in Justice League: Part One on November 17, 2017.
Connoisseur of Marvel, DC, Star Wars, John Wick, MonsterVerse and Doctor Who lore. He's aware he looks like Harry Potter and Clark Kent.
Your Daily Blend of Entertainment News
Thank you for signing up to CinemaBlend. You will receive a verification email shortly.
There was a problem. Please refresh the page and try again.