Why We Won't Have A Gay James Bond Any Time Soon, According To Pierce Brosnan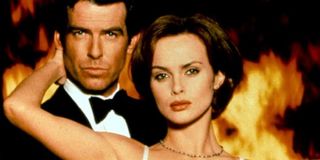 Distilled into its most basic elements, the James Bond franchise revolves around one man's fondness for fast cars, strong drinks, the end of evil, and beautiful women. Now, former 007 Pierce Brosnan has spoken out on his opinion regarding changing the iconic secret agent's sexuality, and revealed that we probably won't be seeing it changing any time soon. Why? It apparently all has to do with producer Barbara Broccoli.
In a recent interview with Details, while promoting his new movie No Escape, the former 007 discussed his joy at the growing acceptance of the LGBT community in his home country of Ireland, and that conversation turned to be about whether or not we will ever get to see a gay James Bond. Addressing the question, Brosnan explained,
It's no doubt an interesting answer. He obviously supports the possibility, given his knee-jerk affirmative to the question, but acknowledges that people who have played a big part in the franchise for far longer – such as Barbara Broccoli – may have a much harder time adjusting to the alteration. Obviously his comments on Broccoli do not necessarily condemn her politics or opinions on current events, but could merely indicate her adherence to the status quo for a character to whom she has committed a great portion of her life.
It would prove a radical, fundamental, shift for the martini-drinking secret agent, as womanizing has long represented a pillar of his characterization. Even in 2006's Casino Royale, love interest Vesper Lynd notes that Bond thinks of women "as disposable pleasures rather than meaningful pursuits."
That being said, many audience members have recognized that Bond's promiscuity primarily exists as a coping mechanism – much like his penchant for alcohol – for the darkness he encounters in his job. Even Alec Trevelyan (Sean Bean), former 006 and villain during Brosnan's tenure, noted this tendency during their final encounter at the climax of Goldeneye. Altering the gender of who Bond lusts after would certainly prove jarring for audiences, but it would not necessarily mark any sort of fundamental change to the reasons he engages in such activities. Skyfall even made a crack at Bond's sexuality when he hero remarked about it not being his "first time" when villain Raul Silva begins to caress him -- although what he meant is obviously up for debate among fans.
Other franchises have already begun to embrace the LGBT community with open arms. Notably, the television series The Flash features a homosexual police chief – an element presented in a straight-forward way, and never sensationalized. Still, there's a big difference between creating wholly original gay character, and changing an iconic character like the notably heterosexual James Bond.
Pierce Brosnan went on to state that he thinks studios should endeavor to change the iconic secret agent's race before focusing on his sexual orientation. Like many, Brosnan champions the idea of casting Idris Elba in the role, but for the time being he feels comfortable with Daniel Craig as this generation's James Bond.
Although each actor has added his own spin to the character over the years, James Bond has – at his core – remained largely unchanged. Considering the times we live in, as well as the "old dog, new tricks" theme of Bond's most recent outing, maybe this sort of change is exactly what the franchise needs. Daniel Craig continues his tenure as 007 in Spectre, which will hit theaters on November 6th.
Originally from Connecticut, Conner grew up in San Diego and graduated from Chapman University in 2014. He now lives in Los Angeles working in and around the entertainment industry and can mostly be found binging horror movies and chugging coffee.
Your Daily Blend of Entertainment News
Thank you for signing up to CinemaBlend. You will receive a verification email shortly.
There was a problem. Please refresh the page and try again.