Willow Shields Cast As Katniss's Sister Prim In The Hunger Games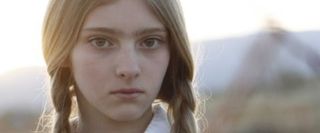 Those of you who really wanted to see an unknown cast as Katniss in The Hunger Games will have to settle for another member of the Everdeen family. According to Entertainment Weekly Willow Shields, with only three IMDB credits to her name, has been cast to play Prim, Katniss's younger sister who is first chosen to participate in the Hunger Games until Katniss volunteers to take her place. Director Gary Ross gave the following statement about Shields's casting:
Prim is very much a secondary character in the first book, left behind in District 12 as Katniss goes to fight in the Games, but develops more in the second and especially the third book; if the books are in fact made into a trilogy, it could turn out to be a great role for a newcomer like Shields. She looks a fair amount like Jennifer Lawrence and is an interesting new face; I see nothing not to like about Ross taking a chance on a newcomer for a small but crucial role like Prim.
Your Daily Blend of Entertainment News
Staff Writer at CinemaBlend