Willy Wonka 40th Anniversary Edition Blu-Ray Comes With A Golden Ticket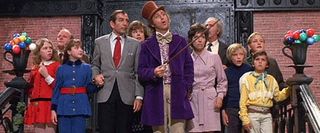 I've never seen a sweeter set in the world than Warner Home Video's 40th Anniversary Edition of Willy Wonka and the Chocolate Factory. It looks like a board game with candy playing pieces and customized pencils for keeping score. It's really a Blu-Ray/DVD combo set with a hell of a lot of quant, or gimmicky, or undeniably extraordinary extras. I want it and a golden goose, now!
Unfortunately, I'll have to wait until October 4, when the set streets. At $64.99, it runs pretty expensive, but the extras more than make up for the cost. The 40th Anniversary Edition of Willy Wonka will come in a limited edition tin with scented pencils and a special eraser. A 144 full-color photo booklet will also be an outside extra, but there are several new and old special features on the disc as well. Brand new featurettes include a segment on Roald Dahl and a second titled "Mel Stewarts Wonkavision." Included as well are "Sing-a-longs," "mouthwatering" interviews with the kiddie cast, and a documentary on Willy Wonka and the Chocolate Factory.
To top off this parfait of a release, a golden ticket game piece will come with the set and can be used to win one of several prizes. The Grand Prize will be a Warner Bros. Studio tour, which is nice. However, the runner-up prize is a limited-run of the original film poster, which would look great on my wall and is just flippin' cool. I can bribe my way into a studio tour another time.
If you're a scrooge of a movie purchaser, or just hate happiness and your kids still want a copy, a DVD edition will also be offered, with some scratch and sniff stickers. This will run a far more reasonable $12.97. Seriously though, it's understandable if the gimmicky stuff isn't up your alley and the DVD release looks best, but as far as a Blu-Ray release of the film goes, the 40th Anniversary Edition will only run you five bucks more than the inferior Blu-Ray book (opens in new tab) set that's been out since 2009. If you're going Blu with the title, keep that in mind.
Your Daily Blend of Entertainment News
Thank you for signing up to CinemaBlend. You will receive a verification email shortly.
There was a problem. Please refresh the page and try again.