With Emma Watson Out, Three New Ingenues Face Off For Cinderella Lead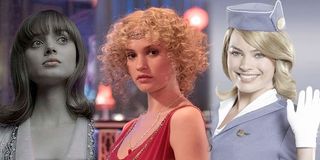 Disney's had a hard time nailing down a lead for their live-action Cinderella. Last December, when the project was in the hands of Mark Romanek, Hanna's Saoirse Ronan, Anna Karenina's Alicia Vikander, and Three Musketeers' Gabriella Wilde were in contention to play the rags-to-riches princess. Then Romanek quit the project, and following news Kenneth Branagh had taken up the helm, his Harry Potter and the Chamber of Secrets co-star Emma Watson was in talks. But then she bolted to play Belle.
This leaves Branagh looking once more for his Cinderella, and three new ingénues have stepped up to see if the shoe fits! Deadline reports Bella Heathcote, Lily James, and Margot Robbie are all being screen tested for the role in London this week. Notably, none of the above have the name recognition of Watson, or even Ronan, Vikander or Wilde for that matter. But this means Cinderella would be a major opportunity for any of the testing trio.
Heathcote is arguably the best known of the three, having recently appeared in David Chase's moody music-drama Not Fade Away and Tim Burton's majorly campy Dark Shadows adaptation. However Downton Abbey devotees might recognize James from the end of season three, where she played the reckless Lady Rose, who's taken in by the Granthams by seasons' end. Like Heathcote, Robbie is an Aussie actress whose appeared on the long-running soap opera Neighbours. Her biggest role stateside was as a lead on the short-lived ABC drama Pan Am, though she'll be seen later this year in Martin Scorsese's Wolf of Wall Street.
Once Branagh picks his Cinderella, he'll move on to casting her prince. Most of the short list for that role is a mystery, but Deadline reports Richard Madden, who plays Robb Stark on Game of Thrones, is a contender. Well, we already know he can pull of the look.
This poll is no longer available.
Staff writer at CinemaBlend.
Your Daily Blend of Entertainment News
Thank you for signing up to CinemaBlend. You will receive a verification email shortly.
There was a problem. Please refresh the page and try again.