Writer Already Working On Real Steel Sequel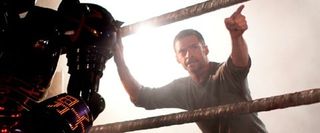 I admit to being more impressed than I thought I'd be by the extra footage they showed of Real Steel at Cinema Con two weeks ago. The film that can accurately be described as "Hugh Jackman's robot boxing movie, directed by the guy who made Night at the Museum" sounds ridiculous on the surface, yes, but the effects to create the boxing robots look good so far, and Jackman is one of those ridiculously charismatic actors who can make you happy to watch anything. So even though nobody in the real world has taken a look at the movie yet, I'm not all that surprised to read at Deadline that DreamWorks has hired a writer to tackle the sequel.
John Gatins, who wrote the screenplay for the first film, has started on a sequel, though there doesn't seem to be any other commitment at the studio at this point. Hiring someone to write a screenplay is a relatively cheap way to get the process moving on a sequel without waiting to see how box office does; presumably Jackman and maybe even Levy signed deals that include potential sequels, and if Real Steel turns out to be a hit when it opens on October 7, they could have a script ready to go and Jackman locked in for another film by that Monday morning. Of course it's slightly complicated that Jackman is already committed to another franchise as Wolverine, but the guy never seems to hesitate to work a lot so he probably will make it work.
Your Daily Blend of Entertainment News
Staff Writer at CinemaBlend