X-Men Apocalypse Won't Bring Back These 2 Major Actors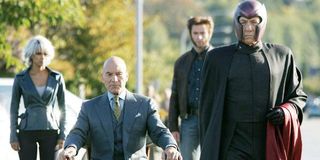 The more information about the upcoming X-Men: Apocalypse we are given, the more exciting the prospect becomes. We've starting to get a sense of the plot, and know the movie is set in the '80s with a center on Professor X, Magneto, Beast and Mystique. But, as it turns out, unlike the previous film in the series, the story will not include the original versions Professor X and Magneto meaning Sir Patrick Stewart and Ian McKellen will not be back for X-Men: Apocalypse.
In a recent interview with Larry King via Comic Book, Patrick Stewart was questioned on the subject of appearing in Bryan Singer's upcoming film, to which he responded:
There has been previous speculation on whether or not the story would entail the two famed British actors, mostly in regard to what the progression of the film would be like. As we saw in the latest, X-Men: Days of Future Past the story was set in two different time periods: the future—including a slew of the original cast members, and the past—including the new versions of the team. The original cast members included Patrick Stewart and Ian McKellen, while their younger counterparts were portrayed by James McAvoy and Michael Fassbender. Months ago, Simon Kinberg, screenwriter and producer of the film told The Daily Beast that, "[Apocalypse] will focus primarily on the First Class cast, but it will certainly have some of the original cast involved too."
There was hope we'd see our favorite goofball duo reprise their roles once again, especially since the two have appeared in every Singer X-Men film thus far, but turns out, Kinberg was probably referencing other original characters that naturally fit in the '80s time period, for instance, Wolverine. Just last month, Hugh Jackman teased his role in the upcoming film, and seeing that he was such an integral part to in the previous film, it would only be natural to see what progress.
There is still a long way to go until the release of the film—the official cast has not even been announced yet. So we continue to itch for details. But, with James McAvoy, Michael Fassbender and Jennifer Lawrence leading the way, it is sure to be a terrific ride. Plus, we will be introduced to a new set of actors, portraying the young classic members of the team including Cyclops, Jean Grey, and Storm. Of course we'll miss the lovely Stewart and McKellen, but as long as they keep giving us adorable bestie photos it'll ease the pain. Stay tuned for official casting updates, and X-Men: Apocalypse will hit theaters May 27, 2015.
Your Daily Blend of Entertainment News
Thank you for signing up to CinemaBlend. You will receive a verification email shortly.
There was a problem. Please refresh the page and try again.