Y: The Last Man Back In Action Again With Zorro Writers Hired To Adapt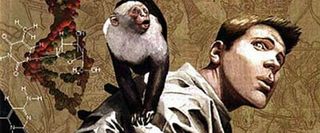 Brian K. Vaughan and Pia Guerra's Y: The Last Man, a fantastic 10 part series from Vertigo Comics, has been in various stages of development for quite some time. Y follows Yorick Brown and his monkey Ampersand as the only remaining male mammals on the planet after some mysterious plague kills every other living thing with a Y chromosome. Now Yorick, an amateur magician and irresponsible goof, with the help of Special Agent 355 and Dr. Alison Mann must try and figure out what went wrong in hopes of saving the species from extinction.
THR's Heat Vision reports that the writing duo of Matthew Federman and Stephen Scaia are in final negotiations to write an adaptation of the comic series for New Line with J.C. Spink, Chris Bender and David Goyer producing. Federman and Scaia cut their teeth writing for television (Human Target and Jericho) before recently being hired to write the new Zorro origin story for Sony. At one point DJ "Disturbia" Caruso was going to direct Shia LaBeouf as Yorick and Alicia Keys as 355 from a script by Carl Ellsworth, Jeff Vintar and Vaughan but that (intended trilogy) has been long abandoned. And good news in my opinion because, even though I agree that the property is way to large for a single film and is probably best served for an HBO mini-series, after their collaboration on Eagle Eye I was certainly not excited by the prospect of a Caruso-TheBeef Y: The Last Man.
Now with the script in Federman and Scaia's hands and going back to square one, I would rather see somebody like Sherlock's Paul McGuigan take the reigns with Adam Brody in the lead. He's got that fast talking, goofy charisma needed for a role like Yorick. Adepero Oduye (Pariah) would make a good 355 with Grace Park (Hawaii Five-0) as Dr. Mann. Yeah. I've thought about this one before; now let's hope it finally hits the big screen. Who could you see in the big screen adaptation of Vaughan and Guerra's Y: The Last Man?
Your Daily Blend of Entertainment News
Your Daily Blend of Entertainment News
Thank you for signing up to CinemaBlend. You will receive a verification email shortly.
There was a problem. Please refresh the page and try again.