You Will See Isla Fisher In Louis Letterier's Now You See Me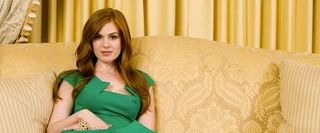 Have you ever been to a child's birthday party watching a magician pull miles of handkerchiefs from his sleeve and thought to yourself, "this guy is probably masterminding a heist as he does this?" No? Me neither, but wouldn't you love to see a movie with that exact plot? Well you're in luck because that happens to be the central conceit behind Summit Entertainment's upcoming film Now You See Me. And, according to Variety, Isla Fisher was recently added to the cast, which already includes Morgan Freeman, Mark Ruffalo, Melanie Laurent, and Jesse Eisenberg.
Listening to the plot description for Now You See Me, you can almost smell popcorn in the air. This thing has crowd-pleaser written all over it. In addition to its cast of box office draws, the film also has the advantage of being directed by Louis Letterier. Letterier also helmed Clash of the Titans and The Incredible Hulk, as well as 2005's Unleashed with Jet Li. What this tells us is that Lettier knows how to direct huge blockbusters as well as action films with complex character development. This bodes well for Now You See Me.
Isla Fisher, most recently of Rango, is adorable, but she's also a much better actress than she often is given the chance to demonstrate. She is primary utilized in comedies of varying degrees of quality. In Now You See Me, she plays a technician who builds devices that the magicians use to execute their heists. It's a part that seems brainier and more skilled than her usual fare. It will be interesting to see what she does with the role. Fisher will also get the chance to work outside of her normal comfort zone when she takes on the role of Myrtle in Baz Luhrmann's The Great Gatsby, currently filming in Australia. She's got the talent, and it's nice to see filmmakers giving her more diverse roles.
Apparently Amanda Seyfried was originally courted for this part, but no deal was ever finalized. Maybe she worried that she'd be shooting a sequel to In Time that would conflict with Now You See Me; set to be released in 2014.
Your Daily Blend of Entertainment News
Thank you for signing up to CinemaBlend. You will receive a verification email shortly.
There was a problem. Please refresh the page and try again.