Zac Efron Grows Up And Goes Swedish For Snabba Cash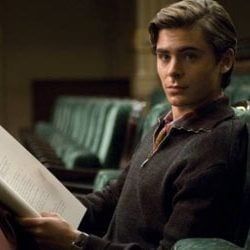 Zac Efron's first big attempt at breaking out of the High School Musical/teen idol mold was Me and Orson Welles, which wasn't really seen by enough people to have its desired effect. But Efron has to grow up eventually, and now he seems to be relying on a Swedish crime thriller to take that next step.
Variety reports that Efron is onboard to star in a remake of the Swedish thriler Snabba Cash, which roughly translates to "easy money." Efron would play a financial whiz who sets up a money laundering scheme for a drug syndicate-- definitely behavior that High School Musical's Troy would frown upon. The film is based on the novel by Jens Lapidus, but neither the book nor the original Swedish film seem to have been released in the United States or even in English, so it's hard to get much more about the plot than what Variety is offering.
Still, the intent is clear-- this is a grown-up role for Efron, and this is a studio-- Warner Bros., which is also going Swedish with The Girl With The Dragon Tattoo-- counting on Efron's charm to help them launch an adaptation of a movie that no one has heard of. As an avowed, slightly guilty feeling Efron fan, I can't think of a better guy to do it.
UPDATE: A reader sent along a trailer for the original film that includes English subtitles. You can clearly tell that the young guy with slicked-back hair is the Efron character, but it seems he's not the only lead role. Take a look below:
Staff Writer at CinemaBlend
Your Daily Blend of Entertainment News
Thank you for signing up to CinemaBlend. You will receive a verification email shortly.
There was a problem. Please refresh the page and try again.