Zac Efron Signs On To Star In John Grisham's Legal Thriller 'The Associate'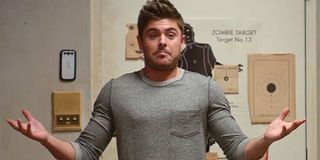 Earlier this year, Zac Efron went from dreamy leading man to dreamy leading man/producer with That Awkward Moment. Despite a bevvy of bad reviews from critics, the $8 million raunchy romantic comedy proved a box office success, raking in $53 million worldwide. Next up, Efron's readying to pull double duty on an adaptation of John Grisham's novel The Associate.
THR reports Efron is set to headline the legal thriller adaptation, and will also produce through his company Ninja's Runnin Wild. Reportedly, Efron and fellow producers Doug Wick and Lucy Fisher of Red Wagon Entertainment are currently in search of a screenwriter to translate the 2009 novel into a compelling screenplay. From there, the plan is to pitch the project to studios.
Below you can read the synopsis of the novel version of The Associate, which was found over on the book's Amazon page:
Efron isn't new to the thriller genre, having starred in At Any Price, Parkland and most notably--or notoriously-- The Paperboy. None of these made him a sought after leading man, though. That could be precisely why Efron is also producing this picture himself, however - to better craft a vehicle that will launch him to a promising new stage in his career. The Associate could prove a turning point for Grisham as well.
In the 1990s, Grisham's novels were hot properties that proved the basis for hit thrillers such as the Tom Cruise vehicle The Firm, the Denzel Washington/Julia Roberts double-hander The Pelican Brief, the Academy Award-nominated murder mystery The Client, and the chilling race relations drama A Time To Kill.
But then came the Chris O'Donnell-fronted The Chamber, a $50 million movie that made just $22 million worldwide. Next, Matt Damon's The Rainmaker fumbled, pulling in barely $5 million more than its $40 mil budget. After that came the Robert Altman-directed Gingerbread Man, which made a downright painful $1.6 million domestically. From there, the demand for Grisham thrillers dropped dramatically. Not even the modest box office successes of the 2003 thriller Runaway Jury could stop it.
If done right The Associate could make Efron and Grisham hotly sought once more. In the meantime, Efron is next taking a second stab at R-rated comedy with the Seth Rogen comedy Neighbors. Read Sean's SXSW review of that funny feature here.
Your Daily Blend of Entertainment News
Staff writer at CinemaBlend.