Zac Efron's We Are Your Friends Is A Box Office Bomb Of Historic Proportions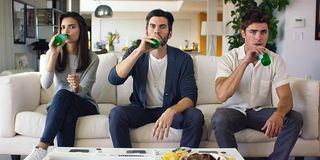 While Straight Outta Compton defended its title as the number one movie at the box office for the third straight week in a row, no one wanted to be Zac Efron's friend. The Neighbors star headlined the EDM film We Are Your Friends, which debuted in theaters this past weekend. Instead of tickling the hipster audience it so desperately needed, the film earned the title of worst opening of all time from a Hollywood studio title released in 2,000 or more theaters.
It's a very specific and longwinded title, but one that no one wants, nonetheless.
Already, August isn't the most enticing month for movie releases, but We Are Your Friends dropped even lower than Fox's superhero bomb Fantastic Four, which was released earlier this month. Coming in at $1.8 million, We Are Your Friends came in at the 13th spot, behind American Ultra, Minions, Ant-Man, and Jurassic World. According to Billboard, Warner Bros. only paid about $2 million to distribute the film, but then there's the cost of production to consider. Furthermore, it marks another disappointing debut for the studio.
Jeff Goldstein, Warners executive VP for domestic distribution, said of the film's dismal numbers,
To further offer some defense, this is only the film's opening weekend. Though the future doesn't look too good, it still has time to garner some more ticket sales.
Efron starred in We Are Your Friends as a struggling DJ name Cole, who is looking to make a name for himself and move out of The Valley in California. While his friends are peddling drugs and essentially working for a Wolf of Wall Street-esque man of California real estate, Cole meets a big-time DJ named James (Wes Bentley), who takes the aspiring artist under his wing. To complicate matters, Cole falls head over heels for James' girlfriend, Sophie (Gone Girl's Emily Ratajkowski).
It wasn't my favorite film by any means, and it proved that Zac Efron, despite his charm, has his limits when it comes to box office appeal. Thankfully, he's enough of a star that this is just a minor speed bump. The actor with abs of steel will next be seen doing shirtless handstands on Robert De Niro's arm in the raunchy comedy Dirty Grandpa, while a Neighbors sequel (subtitled Sorority Rising) is slated for his future. Plus, he also has that Anna Kendrick and Aubrey Plaza comedy Mike and Dave Need Wedding Dates that is set for release next summer.
Warner Bros., too, will bounce back from this with the upcoming releases for Pan, starring Hugh Jackman, Garrett Hedlund, and Rooney Mara; In the Heart of the Sea, starring Chris Hemsworth; the Rocky spin-off Creed, starring Michael B. Jordan; and even the re-release of The Iron Giant.
Your Daily Blend of Entertainment News
Thank you for signing up to CinemaBlend. You will receive a verification email shortly.
There was a problem. Please refresh the page and try again.