We Are Your Friends Trailer Offers Zac Efron, Music And Young Dreams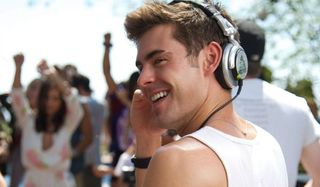 Zac Efron is ready to make the beat drop. While the stud muffin of Neighbors and That Awkward Moment is showing off his abs of steel while filming Dirty Grandpa with Robert De Niro, the first We Are Your Friends trailer hit the airwaves to give you a taste of Efron as a hipster DJ.
While the footage isn't all that exciting — it is more than three minutes long when it should have stuck to two and a half — Efron looks right at home. If he for whatever reason decides to leave acting behind, he might want to consider a career as a DJ.
We Are Your Friends features Efron as Cole, a 23-year-old aspiring DJ living in California with his buddies. Cole is trying to make ends meet during the day, while working at night on the one track that will make his entire career. He meets an older DJ named James, played by Wes Bentley, who takes the young creative under his wing, but things become complicated when Cole falls for James' much-younger girlfriend. All the while, his relationships with his friends are slowly becoming undone, as they acquire a more realistic view of how their futures will play out. We Are Your Friends features a cast that also includes Jonny Weston (Taken 3, Project Almanac, Insurgent), Emily Ratajkowski (Ben Affleck's on-screen girlfriend in Gone Girl), Shiloh Fernandez (Evil Dead) and Jon Bernthal (aka Shane from The Walking Dead).
Efron fans will likely flock to the theaters for this film, but the trailer doesn't do well in drumming up excitement. The footage, like I said, is pretty lengthy as far as trailers are concerned, and it moves fairly slow. There doesn't seem to be all that much to the premise, and yet the trailer drags it all out for as long as possible. The film speaks to that younger audience, and Efron did his best to immerse himself in the world of EDM. DJ Them Jeans (Jason Stewart) coached the actor on the set, teaching him about complex decks and music production software. Watch as he works with Efron from the set of We Are Your Friends.
This is Max Joseph's debut as a feature film director, having helmed a slew of documentaries and shorts. He described the style of the film to USA Today as being "almost documentary" at times, while Efron said they found "a really cool way" of telling this story. We Are Your Friends hits theaters on August 28.
Your Daily Blend of Entertainment News