Zach Galifianakis' Crime Comedy Masterminds Won't Be Released, Find Out Why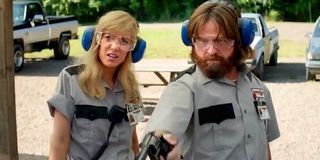 I hope you weren't getting super pumped up for the release of the Zach Galifianakis and Kristen Wiig-starring heist comedy Masterminds, because that is no longer happening. With Relativity Media filing for Chapter 11 bankruptcy, they can't afford to market the movie and it has been pulled from their release schedule.
According to The Hollywood Reporter, a representative for Relativity Media, which is currently bankrupt and up for sale, confirmed that they did indeed remove Masterminds from the schedule—a release already pushed back my months—though they declined to elaborate as to why. However, a source "close to the company," whatever that means, did reveal that this move was made because they don't have the capital to market the movie. It's easy to imagine how that might be a problem when planning to release a film.
With debts and liabilities totaling more than $1 billion, the company, founded by Ryan Kavanaugh in 2004, owes money to a collection of other businesses and vendors. Back on July 30, Relativity filed for Chapter 11 bankruptcy protection, and they have a court hearing scheduled for later this week, August 14. An auction is now in the works—Toronto-based Catalyst Capital already purchased $130 million of the debt. As Relativity is a sizeable player in the industry, the people they owe money to have an interest in them stay in business, but there are obvious issues that need to be addressed.
Relativity's financial woes have already had a big impact on a number of movies in the pipeline. The Crow reboot lost most of its production team, who walked off as part of the fallout. Sony recently terminated a $3 million dollar deal for the distribution rights to the upcoming skating comedy The Bronze, leaving it, like Masterminds, without any source of promotional funds. The upcoming action thriller Autobahn, with a star-studded cast of Felicity Jones, Nicholas Hoult, Anthony Hopkins, and Ben Kingsley, is likely in the same boat.
There do appear to be some releases that will go ahead as scheduled, however. THR notes that Red, a joint venture between Relativity and EurpaCorp, is not included in the larger bankruptcy proceedings, so the films in that arena should be unaffected. That includes titles like the actioner The Transporter Refueled, still slated for a September 4 release; the home invasion horror film Shut In, penciled in for February 19, 2016; and The Lake, a thriller about Navy SEALs finding treasure, which stars J.K. Simmons and should still be released on July 15, 2016.
Masterminds was already pushed back from an August release to an October 9 date. With a cast that includes Zach Galifianakis, Kristen Wiig, Jason Sudeikis, and Owen Wilson, you have to imagine it will see the light of day eventually, but it looks like we're going to have to wait a while longer until this Relativity mess is sorted out.
Your Daily Blend of Entertainment News