Masterminds Trailer: Watch Kristen Wiig And Zach Galifianakis Fail At Crime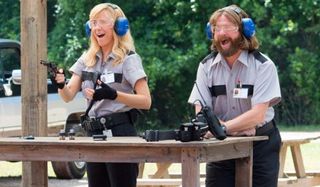 The debut trailer for Masterminds has hit, proving that a semi-biographical, $17 million bank robbery, called one of the largest cash heists ever on American soil, can be viewed through the lens of slapstick hilarity.
True crime now meets a star-studded consortium of contemporary comedy's best, like Kristen Wiig, Zach Galifianakis, and Owen Wilson, who look to prove that a "bullet between the biscuits" won't stop a collective case of low IQ larceny. Especially when there are so many other things that can stop them.
Yes, that message in the beginning that reads, "based on a true story," is not just an example of the same sarcasm from which the title is derived. Masterminds is based (albeit loosely) on a 1997 Loomis Fargo & Company robbery in Charlotte, NC that saw $17.3 million go missing. In fact, the film was originally titled Loomis Fargo and even had Jim Carrey in its sights to star at one point. Despite the seriousness of the crime, hindsight has clearly bestowed some levity on the situation, relegating it to the "stupid criminals" file. As a result, this heist flick seems to carry plenty of "dumb yokel" type humor that plays well amongst the interflow of the cast.
Zach Galifianakis and Kristen Wiig play David and Kelly, a stupidly scheming couple whose jobs at an armored car company gives them ideas for a possible heist of a secure vault containing a fortune. However, their plan involves a sinister but equally obtuse friend, Steve (Owen Wilson). He doesn't exactly need tremendous powers of persuasion to help craft a plan where David does all the work and gives him and his buddies the money, with promises of wiring it to David in bits after he is safely down in Mexico. (This makes him either a redneck Bernie Madoff or a fake Nigerian Prince.) Of course, things don't exactly go down as planned. Soon enough, everything goes awry and even gets potentially fatal when Steve hires a hitman (Jason Sudeikis) as the battle for the misbegotten loot begins.
In the director's chair for this cinematic crime calamity is Jared Hess, whose affinity for showcasing the absurdity of normalness was on full display in his signature comedy films, Napoleon Dynamite and Nacho Libre. He has a solid cast of A-list comedic talent who excel at playing stupid when it comes to Zach Galifianakis, Owen Wilson, and Jason Sudeikis. Plus, the film even features three out of the four cast members of the upcoming all-female Ghostbusters movie with Kristen Wiig, Kate McKinnon and Leslie Jones. The collective comedic talents seem in place to make this cretinous caper a memorable lesson in what not to do… in crime and in life.
Masterminds looks to prove that the prospect of opening a teen camp for at-risk horses is not quite enough justification for larceny when it hits theaters on August 7.
Your Daily Blend of Entertainment News