New Zealand Bans Elijah Wood Movie Maniac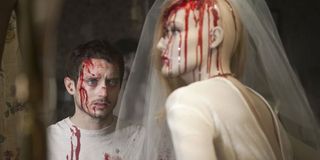 Typically when a country makes headlines over cinema censorship, it's China choosing whether or not a Western produced film will be allowed within their borders. But hot on the heels of China's decision to bar Despicable Me 2 from their theaters, far more surprising news has arisen that New Zealand is banning Elijah Wood's new movie Maniac from release.
THR reports the Office of Film and Literature Classification, which handles the nation's censorship concerns, has announced today that Maniac will not be allowed to screen to general audiences in New Zealand. This ruling also means the movie will not be available for sale later on DVD within the country. However, the horror-thriller will be allowed to screen within film festival settings, such as the New Zealand International Film Festival, where it's slated to show soon. Maniac is the first film to get the restrictive festival-only rating since the 2006 documentary The Bridge, which features actual footage of people committing suicide by jumping from the San Francisco landmark.
The controversial horror feature that made its world premiere at the Cannes Film Festival last year is a remake of the 1980 grindhouse cult classic by the same name. High Tension screenwriters Alexandre Aja and Gregory Levasseur wrote the adapted screenplay; Franck Khalfoun, helmer of the parking lot-set thriller P2, directs. In Maniac Wood goes against type in the titular role. Far from the lovable and noble Frodo he played in the Lord of the Ringsmovies--produced in New Zealand—here he plays a mannequin shop owner who is also a homicidal maniac. But it's not the gruesome subject matter of the film that got this movie banned. ZIFF programmer Ant Timpson explains:
The implication here seems to be that the film is more likely to inspire violence among general audience members than festival-goers. Neil Foley, who represents Maniac's Australia-based distributor Monster Pictures, understandably finds this idea absurd and insulting, declaring:
Foley went on to state Monster Pictures will fight the ruling, but admits their chances for an appeal don't look good.
Maniac is currently open in limited release in the US. Check out its red-band trailer below and get a sense of what all the fuss is about.
Your Daily Blend of Entertainment News
Staff writer at CinemaBlend.