Zombieland 2 Is Actually Happening, Here's The Latest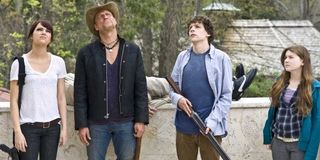 It's been close to five years since Zombieland saw Jesse Eisenberg, Woody Harrelson, Emma Stone and Abigail Breslin's zombie-hunters prowl across the Southern states trying to find a new home. Most people assumed that a long-touted sequel would never materialize, but now Sony Pictures have surprisingly announced several details that suggest they're taking a potential follow-up very seriously.
According to Deadline, Dave Callaham has now been hired to script the follow-up, and he will be advised and supervised by Ruben Fleischer - the first Zombieland's director, who is hoping to return to that seat. Callaham has had a topsy-turvy couple of years. His script for Barrow turned into The Expendables, but only after he sued Sylvester Stallone for credit, and while he wrote the first draft for the Godzilla reboot, it eventually was extensively re-written by Max Borenstein. Zombieland 2 will hopefully give him a chance to truly inject his personality and talent into a script without it being extensively re-written. Sony decided to hire Callaham for the undead-follow-up thanks to his work on Jackpot, which is a darkly comic-tale that is based on a story by Swedish crime-writer, Jo Nesbo. He was also brought on do a re-write on Marvel's Ant-Man after Edgar Wright's shocking departure earlier this summer.
Sony still hasn't officially confirmed whether Fleischer will return to direct the Zombieland sequel, but as he was the man who oversaw the original's relative success (making $102 million on a $23.6 million budget), it's a pretty safe bet that they'll ask him to step behind the camera again. Plus, Fleischer would also probably jump at the opportunity to return to a franchise that he knows intimately. Fleischer made his feature-film debut with Zombieland, after forging a very impressive career as a music video and commercials director, but his follow-up movies failed to blossom in the way that his first outing did. Despite possessing the always stellar comedic talent of Aziz Ansari, while also re-teaming Fleischer with his Zombieland star, Jesse Eisenberg, 30 Minutes Or Less flopped. After that, Gangster Squad failed to live up to the potential of its cast or story, and Fleischer was even criticized by critics for being out of his element. Ouch.
While it looks like there is a good chance Fleischer will come back, each of the four leading cast-members have seen their career's soar since the film was released, and it would be rather amazing if they could convince just one of them to come-back - let alone the entire quartet. Eisenberg is currently filming his scenes as Lex Luthor for Batman V Superman: Dawn Of Justice, Woody Harrelson has re-defined his career thanks to his turn in True Detective, not to mention The Hunger Games, Emma Stone is one of Hollywood's most in-demand actresses thanks to her exploits as Gwen Stacey in Marc Webb's The Amazing Spider-Man series, and Abigail Breslin has steadily built up her career thanks to a series of impressive bit-part roles in ensemble pieces like New Year's Eve, Ender's Game, and August: Osage County. In conclusion, it's going to take a stellar script from Callaham to convince them to return, so he better get scribing. I'd start by working in another Bill Murray cameo if I were him.
Your Daily Blend of Entertainment News
Your Daily Blend of Entertainment News
Thank you for signing up to CinemaBlend. You will receive a verification email shortly.
There was a problem. Please refresh the page and try again.