Will Ferrell Says They're Doing A Zoolander 2 Script Read-Through Soon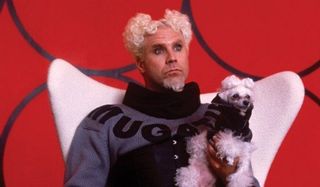 Derek Zoolander and Hansel McDonald are a step closer to making their dim-witted returns to the big screen after Mugatu himself, Will Ferrell, confirmed that a read-through for Zoolander 2 will take place in the near future.
During a discussion with The Hollywood Reporter, Ferrell revealed that the long-touted follow-up to the 2001 fashion comedy is on the horizon. "We are actually supposed to do a read-through of a sequel script soon," he declared, before adding, "Mugatu is a part of it."
Written and directed by Ben Stiller, Zoolander is arguably the American comedian's most famous foray behind the camera. It tells the tale of Stiller's Derek Zoolander, a idiot who -- after being usurped as the world's top male fashion model by Owen Wilson's Hansel McDonald and then publicly ridiculed by journalist Christine Taylor's Matilda Jefferies -- unwittingly becomes brainwashed by Ferrell's Mugatu into trying to assassinate the Prime Minister of Malaysia.
You can check out one of the highlights of the film, the rather hilarious "Walk Off" scene below. It will probably be the best 2 minutes of your day.
Will Ferrell's scene-stealing turn as the delightfully over-the-top foe to Ben Stiller's Zoolander helped to turn him into a cinematic commodity, and his follow-up performances in Old School, Elf and Anchorman: The Legend of Ron Burgundy in 2003 and 2004 respectively, further confirmed his ability as Hollywood's funniest actor.
Ever since 2008, Stiller has insisted that a follow-up Zoolander film was in the early stages of development. Not only has he previously noted that a number of scripts had been developed, but it was also believed that his Tropic Thunder co-writer, Justin Theroux, was the front-runner to writer and direct the sequel. Stiller even told Empire Magazine about the potential plot for the film back in January 2011, stating:
He went on to state that Will Ferrell's involvement in the film was "an integral part of the Zoolander story" and that the former Saturday Night Live star had "expressed interest in doing it" too.
However as the years have progressed, despite Stiller's declarations to the contrary, it has looked less and less likely that Zoolander 2 would actually become a reality. Ferrell's revelation suggests that the film is now on the brink of finally coming to fruition though, but should we be excited?
There's every chance that Ben Stiller, Owen Wilson and Will Ferrell will be able to replicate the camaraderie that turned their first outing into such a beloved cult film. Plus if, as has been teased, Jonah Hill is the villain of the piece, then the trio will also be able to benefit from the addition of a whole bevy of new, modern comedians too.
But there's also the possibility that it might just be too long since the original film was released, and that moviegoers will now be nonplussed by their potential return. One piece of advice to those involved though; the more Billy Zane, the better.
Your Daily Blend of Entertainment News